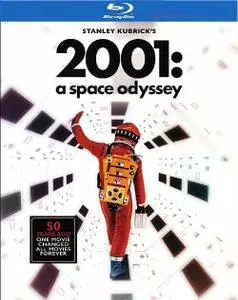 2001: A Space Odyssey (1968) [2018 Remaster]
Blu-Ray + Blu-Ray Extras | BDMV | AVC, 1920x1080, ~30.0 Mbps | 2hr 28mn | 42,8 GB + 9,54 GB
English: DTS-HD MA, 6 ch, 2197 kbps \ DTS-HD MA, 6 ch, 2170 kbps;
French (Français) \ German (Deutsch) \ Italian (Italiano) \ Spanish (Español x 2): AC3, 4 ch, 448 kbps; Portuguese (Português) \ Polish (Polski) \ Japanese (日本語) \ English (Commentary): AC3, 2 ch, 192 kbps
Subtitles: English, Spanish, French, German, Italian, Dutch, Chinese, Korean, Portuguese, Arabic, Croatian, Czech, Danish, Finnish, Greek, Hebrew, Hungarian, Icelandic, Norwegian, Polish, Romanian, Russian, Swedish, Thai, Turkish, Chinese, Japanese
Genre: Adventure, Sci-Fi
Director:
Stanley Kubrick
Writers:
Stanley Kubrick (screenplay), Arthur C. Clarke (screenplay)
Stars:
Keir Dullea, Gary Lockwood, William Sylvester
"2001" is a story of evolution. Sometime in the distant past, someone or something nudged evolution by placing a monolith on Earth (presumably elsewhere throughout the universe as well). Evolution then enabled humankind to reach the moon's surface, where yet another monolith is found, one that signals the monolith placers that humankind has evolved that far. Now a race begins between computers (HAL) and human (Bowman) to reach the monolith placers. The winner will achieve the next step in evolution, whatever that may be.
Extras:
- Commentary by Keir Dullea and Gary Lockwood
- Channel Four Documentary 2001: The Making of a Myth
- 4 Insightful Featurettes:
- - Standing on the Shoulders of Kubrick: The Legacy of 2001
- - Vision of a Future Passed: The Prophecy of 2001
- - 2001: A Space Odyssey - A Look Behind the Future
- - What Is Out There?
- 2001: FX and Early Conceptual Artwork
- Look: Stanley Kubrick
- - Audio-Only Bonus: 1966 Kubrick Interview conducted by Jeremy Bernstein
- - Theatrical Trailer


DISC INFO:

Disc Title: 2001ASpaceOdyssey.68.Remastered.BR.D1
Disc Size: 45 989 616 628 bytes
Protection: AACS
BD-Java: No
BDInfo: 0.5.8

PLAYLIST REPORT:

Name: 00100.MPLS
Length: 2:28:51.714 (h:m:s.ms)
Size: 45 202 458 624 bytes
Total Bitrate: 40,49 Mbps

(*) Indicates included stream hidden by this playlist.

VIDEO:

Codec Bitrate Description
––- –––- –––––-
MPEG-4 AVC Video 29981 kbps 1080p / 23,976 fps / 16:9 / High Profile 4.1

AUDIO:

Codec Language Bitrate Description
––- –––– –––- –––––-
DTS-HD Master Audio English 2197 kbps 5.1 / 48 kHz / 2197 kbps / 16-bit (DTS Core: 5.1 / 48 kHz / 1509 kbps / 16-bit)
DTS-HD Master Audio English 2170 kbps 5.1 / 48 kHz / 2170 kbps / 16-bit (DTS Core: 5.1 / 48 kHz / 1509 kbps / 16-bit)
Dolby Digital Audio English 192 kbps 2.0 / 48 kHz / 192 kbps / DN -4dB
Dolby Digital Audio French 448 kbps 5.1 / 48 kHz / 448 kbps / DN -4dB
Dolby Digital Audio German 448 kbps 5.1 / 48 kHz / 448 kbps / DN -4dB
Dolby Digital Audio Italian 448 kbps 5.1 / 48 kHz / 448 kbps / DN -4dB
Dolby Digital Audio Spanish 448 kbps 5.1 / 48 kHz / 448 kbps / DN -4dB
Dolby Digital Audio Spanish 448 kbps 5.1 / 48 kHz / 448 kbps / DN -4dB
Dolby Digital Audio Portuguese 192 kbps 2.0 / 48 kHz / 192 kbps / DN -4dB / Dolby Surround
Dolby Digital Audio Polish 192 kbps 2.0 / 48 kHz / 192 kbps / DN -4dB / Dolby Surround
* Dolby Digital Audio Japanese 192 kbps 2.0 / 48 kHz / 192 kbps / DN -4dB
Dolby Digital Audio English 192 kbps 2.0 / 48 kHz / 192 kbps / DN -4dB / Dolby Surround

SUBTITLES:

Codec Language Bitrate Description
––- –––– –––- –––––-
* Presentation Graphics Japanese 9,385 kbps
Presentation Graphics English 14,012 kbps
Presentation Graphics French 11,264 kbps
Presentation Graphics German 15,400 kbps
Presentation Graphics Italian 14,264 kbps
Presentation Graphics Spanish 12,622 kbps
Presentation Graphics Dutch 10,277 kbps
Presentation Graphics Chinese 11,429 kbps
Presentation Graphics Chinese 12,220 kbps
Presentation Graphics Korean 9,689 kbps
Presentation Graphics Spanish 11,396 kbps
Presentation Graphics Portuguese 12,694 kbps
Presentation Graphics Arabic 6,927 kbps
Presentation Graphics Croatian 12,300 kbps
Presentation Graphics Czech 11,211 kbps
Presentation Graphics Danish 9,485 kbps
Presentation Graphics Finnish 9,203 kbps
Presentation Graphics Greek 11,082 kbps
Presentation Graphics Hebrew 7,874 kbps
Presentation Graphics Hungarian 12,239 kbps
Presentation Graphics Icelandic 12,440 kbps
Presentation Graphics Norwegian 9,396 kbps
Presentation Graphics Polish 10,234 kbps
Presentation Graphics Portuguese 13,721 kbps
Presentation Graphics Romanian 10,738 kbps
Presentation Graphics Russian 13,640 kbps
Presentation Graphics Swedish 8,555 kbps
Presentation Graphics Thai 12,542 kbps
Presentation Graphics Turkish 12,415 kbps
Presentation Graphics Chinese 34,113 kbps
* Presentation Graphics Japanese 32,535 kbps
* Presentation Graphics Japanese 0,325 kbps

FILES:

Name Time In Length Size Total Bitrate
–– –––- ––– –– ––––––-
00316.M2TS 0:00:00.000 2:28:51.714 45 202 458 624 40 487


All thanks to the original uploader