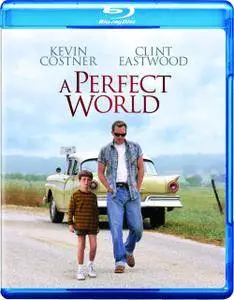 A Perfect World (1993)
BRRip 720p | MKV | 1280 x 534 | x264 @ 1984 Kbps | 2h 18mn | 2,35 Gb
Audio: English AC3 5.1 @ 448 Kbps | Subtitles: English (embedded)
Genre: Crime, Thriller, Drama | Director: Clint Eastwood
After escaping from a Huntsville prison, convict Butch Haynes and his partner Terry Pugh kidnap a young boy, Philip Perry, and flee across Texas. As they travel together, Butch and Philip discover common bonds and suffer the abuses of the outside "Perfect World." In pursuit is Texas Ranger "Red" Garnett and criminologist Sally Gerber.
If you want a fast-paced philosophical drama with quite possibly the saddest ending to a movie you've ever seen, then this is the film for you… A Perfect World drains you emotionally and that's why this amazing film is worth watching once, and not over and over again.

You can't go wrong with a movie directed by Clint Eastwood, who also plays the U.S. Marshal. Kevin Costner gives the greatest performance of his career (except for maybe JFK) and the little boy is played impressively by 7-year-old T.J Lowther. What makes A Perfect World so great is that it's got flaws, but still manages to hold you glued to your TV and make you not want to miss a thing. Be ready to laugh, cry and ponder upon what life would be if we lived in a perfect world.
(Enlargeable)