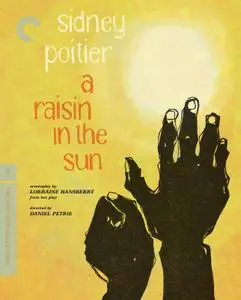 A Raisin in the Sun (1961) [Criterion Collection, Spine #945]
Blu-Ray | BDMV | AVC, 1920x1080, ~31.0 Mbps | 2hr 08mn | 44,5 GB
English: LPCM Audio, 1 ch, 1152 kbps | Subtitles: English
Genre: Drama
Director:
Daniel Petrie
Writers:
Lorraine Hansberry (play), Lorraine Hansberry (screenplay)
Stars:
Sidney Poitier, Claudia McNeil, Ruby Dee
Walter Lee Younger is a young man struggling with his station in life. Sharing a tiny apartment with his wife, son, sister and mother, he seems like an imprisoned man. Until, that is, the family gets an unexpected financial windfall…
Extras:
- New, restored 4K digital transfer, with uncompressed monaural soundtrack on the Blu-ray
- Interview from 1961 with playwright/screenwriter Lorraine Hansberry
- New interview with Imani Perry, author of Looking for Lorraine
- Episode of Theater Talk from 2002 featuring producer Philip Rose and actors Ruby Dee and Ossie Davis
- Excerpt from Black Theatre: The Making of a Movement (1978), with a new introduction by director Woodie King Jr.
- New interview with film scholar Mia Mask, coeditor of Poitier Revisited
- Interview from 2002 with director Daniel Petrie
- Trailer

                                                                                                                Total   Video                                             
Title                                                           Codec   Length  Movie Size      Disc Size       Bitrate Bitrate Main Audio Track                          Secondary Audio Track
-----                                                           ------  ------- --------------  --------------  ------- ------- ------------------                        ---------------------
00001.MPLS                                                      AVC     2:08:03 33 478 244 352  47 784 839 481  34,86   30,90   LPCM 1.0 1152Kbps (48kHz/24-bit)          



DISC INFO:

Disc Title:     ARaisinInTheSun.61.Cr.BR
Disc Size:      47 784 839 481 bytes
Protection:     AACS
BD-Java:        Yes
BDInfo:         0.5.8

PLAYLIST REPORT:

Name:                   00001.MPLS
Length:                 2:08:03.801 (h:m:s.ms)
Size:                   33 478 244 352 bytes
Total Bitrate:          34,86 Mbps

VIDEO:

Codec                   Bitrate             Description     
-----                   -------             -----------     
MPEG-4 AVC Video        30902 kbps          1080p / 23,976 fps / 16:9 / High Profile 4.1

AUDIO:

Codec                           Language        Bitrate         Description     
-----                           --------        -------         -----------     
LPCM Audio                      English         1152 kbps       1.0 / 48 kHz / 1152 kbps / 24-bit

SUBTITLES:

Codec                           Language        Bitrate         Description     
-----                           --------        -------         -----------     
Presentation Graphics           English         74,463 kbps                     

FILES:

Name            Time In         Length          Size            Total Bitrate   
----            -------         ------          ----            -------------   
00274.M2TS      0:00:00.000     2:08:03.801     33 478 244 352  34 856          

CHAPTERS:

Number          Time In         Length          Avg Video Rate  Max 1-Sec Rate  Max 1-Sec Time  Max 5-Sec Rate  Max 5-Sec Time  Max 10Sec Rate  Max 10Sec Time  Avg Frame Size  Max Frame Size  Max Frame Time  
------          -------         ------          --------------  --------------  --------------  --------------  --------------  --------------  --------------  --------------  --------------  --------------  
1               0:00:00.000     0:08:18.498     28 023 kbps     51 083 kbps     00:00:22.272    40 318 kbps     00:00:18.268    37 425 kbps     00:00:03.253    146 087 bytes   640 646 bytes   00:00:00.000    
2               0:08:18.498     0:08:57.787     26 607 kbps     34 054 kbps     00:16:57.641    33 263 kbps     00:16:57.641    32 915 kbps     00:16:57.641    138 719 bytes   237 774 bytes   00:16:49.967    
3               0:17:16.285     0:06:29.972     29 476 kbps     32 683 kbps     00:21:15.107    32 146 kbps     00:20:48.455    31 701 kbps     00:21:34.710    153 672 bytes   211 279 bytes   00:19:49.813    
4               0:23:46.258     0:06:50.576     28 593 kbps     32 784 kbps     00:30:04.511    31 572 kbps     00:30:01.090    31 139 kbps     00:29:59.214    149 073 bytes   220 923 bytes   00:30:32.330    
5               0:30:36.835     0:01:12.655     29 399 kbps     48 112 kbps     00:31:47.071    39 224 kbps     00:31:43.776    37 117 kbps     00:31:38.771    153 274 bytes   640 646 bytes   00:30:43.842    
6               0:31:49.490     0:03:35.924     33 376 kbps     36 340 kbps     00:32:49.425    35 594 kbps     00:33:04.232    35 124 kbps     00:31:49.866    174 009 bytes   300 107 bytes   00:31:50.491    
7               0:35:25.414     0:07:44.172     30 556 kbps     35 304 kbps     00:42:05.856    35 032 kbps     00:42:05.856    34 846 kbps     00:42:05.856    159 306 bytes   208 193 bytes   00:41:54.845    
8               0:43:09.587     0:11:58.050     32 464 kbps     36 891 kbps     00:51:57.030    36 598 kbps     00:51:56.154    36 528 kbps     00:51:52.484    169 255 bytes   255 191 bytes   00:47:04.196    
9               0:55:07.637     0:04:20.635     33 270 kbps     37 430 kbps     00:58:36.179    35 499 kbps     00:58:32.300    35 256 kbps     00:58:27.295    173 455 bytes   350 195 bytes   00:58:37.722    
10              0:59:28.273     0:08:08.362     30 637 kbps     35 868 kbps     00:59:30.692    34 980 kbps     00:59:28.523    33 815 kbps     01:06:59.890    159 729 bytes   242 572 bytes   00:59:29.274    
11              1:07:36.635     0:07:25.236     30 250 kbps     59 073 kbps     01:14:58.952    41 653 kbps     01:14:54.948    39 151 kbps     01:14:49.943    157 709 bytes   640 646 bytes   01:14:59.703    
12              1:15:01.872     0:07:05.800     32 337 kbps     51 161 kbps     01:22:06.129    38 464 kbps     01:22:02.125    36 741 kbps     01:21:57.120    168 589 bytes   640 646 bytes   01:16:17.906    
13              1:22:07.672     0:05:51.601     34 278 kbps     37 044 kbps     01:25:52.021    36 681 kbps     01:24:58.009    36 552 kbps     01:24:41.367    178 709 bytes   312 944 bytes   01:22:08.673    
14              1:27:59.274     0:10:33.632     31 749 kbps     36 341 kbps     01:35:59.211    35 881 kbps     01:35:55.458    35 424 kbps     01:35:54.665    165 525 bytes   227 382 bytes   01:35:55.833    
15              1:38:32.907     0:04:58.881     30 894 kbps     56 089 kbps     01:43:30.037    38 821 kbps     01:43:26.033    35 413 kbps     01:43:21.028    161 068 bytes   640 646 bytes   01:43:30.787    
16              1:43:31.788     0:04:51.207     31 326 kbps     36 982 kbps     01:43:40.380    36 768 kbps     01:43:33.373    36 720 kbps     01:43:33.749    163 317 bytes   325 171 bytes   01:43:31.830    
17              1:48:22.996     0:08:02.899     32 399 kbps     36 836 kbps     01:50:02.095    36 234 kbps     01:50:00.510    35 924 kbps     01:49:56.298    168 914 bytes   247 965 bytes   01:48:54.528    
18              1:56:25.895     0:02:40.910     31 257 kbps     35 010 kbps     01:57:49.395    34 062 kbps     01:57:30.793    33 482 kbps     01:57:28.541    162 962 bytes   220 122 bytes   01:57:50.396    
19              1:59:06.806     0:08:56.994     31 694 kbps     52 957 kbps     02:08:02.257    41 629 kbps     02:07:55.542    39 167 kbps     02:07:50.537    165 263 bytes   640 646 bytes   02:07:59.296    

STREAM DIAGNOSTICS:

File            PID             Type            Codec           Language                Seconds                 Bitrate                 Bytes           Packets         
----            ---             ----            -----           --------                --------------          --------------          -------------   -----           
00274.M2TS      4113 (0x1011)   0x1B            AVC                                     7683,676                30 902                  29 680 123 111  161 412 528     
00274.M2TS      4352 (0x1100)   0x80            LPCM            eng (English)           7683,676                2 310                   2 219 069 888   12 294 016      
00274.M2TS      4608 (0x1200)   0x90            PGS             eng (English)           7683,676                74                      71 519 551      401 886         


All thanks to the original uploader
–––––––––––––––––––––––––––––––––––––––-
OR
OR
–––––––––––––––––––––––––––––––––––––––-
–––––––––––––––––––––––––––––––––––––––-