Adam's apples (2005)
DVD5 | VIDEO_TS | NTSC 16:9 | Cover + DVD Scan | 01:30:36 | 4,24 Gb
Audio: Dansk AC3 2.0 @ 224 Kbps | Subs: English
Genre: Comedy, Crime, Drama
Director:
Anders Thomas Jensen
Writer:
Anders Thomas Jensen
Stars:
Ulrich Thomsen, Mads Mikkelsen, Nicolas Bro
Ivan is a priest in a rural church known for the apples that grow on a large tree in front. He's odd: seeing the world through rose-colored glasses, in denial about personal facts, and convinced he's at war with Satan. The rectory is a half-way house for recently paroled convicts. Adam arrives for 12 weeks, a large, tough neo-Nazi, first baffled by Ivan's thick-headed optimism, then angry. He vows to break Ivan's faith. Meanwhile, in exasperation at Ivan's insistence, Adam sets a personal goal: to bake an apple pie. All goes awry for the tree: crows, worms, lightening. The Book of Job gives Adam perverse insight, and his hooligan mates provide the resolution's spring.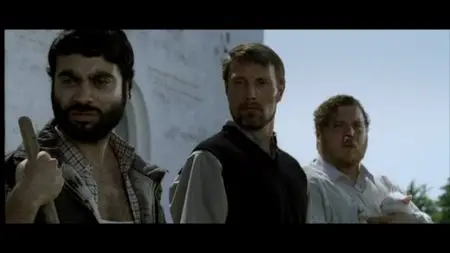 All you need to know about this film, the third in a trilogy by Danish writer/director Anders Thomas Jensen, is summed up in this thought I had while watching it: "I've never laughed so hard watching a man get shot." A dark, dark film that explores the existence of evil and the difference between faith and delusion, Adam's Apples is at times hilarious, at times shocking, and at other times depressing, but it's almost always brilliant, until its winds its way to an ending that is too predictable for such an original film.




The plot itself sounds too out-there to be anything but a goof: Adam (Ulrich Thomsen), a neo-nazi, gets out of prison on a work-release program that sends him to a country church run by Ivan (Mads Mikkelsen), a priest who always looks on the bright side of life, and believes the Devil is behind all evil, and God will forgive all, whether it's a neo-nazi, or the other convicts working for him, like Gunnar, a thief and rapist, and Khalid, an armed robber. As part of the program, Adam has to pick a goal, which for him is to bake a pie. So his job is to protect the apple tree outside the church, which is under attack by blackbirds, worms and blight. Adam has a different job in mind though, as he seeks to break Ivan of his positivity, and prove to him people are capable of evil, and through a pattern of physical violence and psychological assault, Adam begins his war on Ivan's faith.




To reveal anymore about Ivan or Adam would serve only to rob potential viewers of the treats to come, which are revealed as a woman named Sarah arrives at the church, looking for advice regarding her illegitimate unborn child, who is at risk of brain damage due to her alcoholism. It's an incredible backstory that unfurls, in ways that are hard to believe even as they appear before your eyes. One scene, in which Sarah breaks down while talking to Ivan is fantastic, as the priest's gift for ignoring the negative aspects of life manifests itself in ridiculous requests that result in hysterical reactions from Adam. It's the outstanding acting by Thomsen and Mikkelsen that allow such an unusual story work as well as it does here.




While the acting is terrific, Jensen, one of the forces behind the dogme film concept, made a gorgeous movie that shows touches of inspiration from Tim Burton and James Whale, as the two halves of the movie couldn't be more different, visually representing the increasing influence Adam has over the church. Subtle is one word missing from the film's vocabulary though, as religious allegory and symbolism coats the film thickly. Even the soundtrack doesn't leave much to guess at, including the use of a Bee-Gees song that's just about perfectly placed. The ending might actually be the least subtle part of the film, as it's very storybook and predictable, and goes on much longer than it needed to.




The one caveat that must be provided is a warning regarding the violence in the film. To say it's extreme would be understating matters, as it doesn't fit in with the rest of the film, and is so graphic it draws gasps. Despite that, it is responsible for one of the funniest moments in the entire film, as Khalid is confronted by Adam's neo-nazi cohorts. Somehow, the inability of this Saudi Arabian native to speak Danish is translated to English subtitles perfectly, and the action is handled incredibly smoothly by the actors and Jensen, resulting in a scene dripping in dark-comedy genius.




As the credits rolled, I thought, "This is a film that really should be remade in English, to give the wonderful story a wider audience." But then, it's probably the kind of story that works best in its setting and in a foreign language, a fable that might lose its storytelling power in another form. So until the majority of the movie-viewing audience gets over its issues with subtitles, Adam's Apples will remain a pleasant little secret, and anyone lucky enough to get their hands on a copy. Anyone who enjoys a good, dark story (like the fans of Tim Burton's work or perhaps Twilight Zone enthusiasts) will absolutely want to take a look at this film.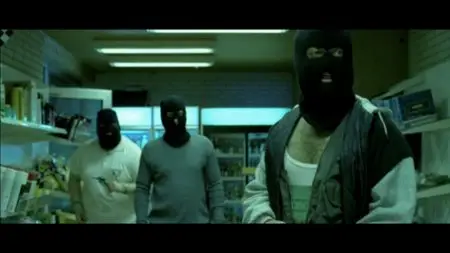 Special Features:
- "Clara" short film (6:53)
- Stella Artois Presents: "Train" promotional short (1:00)
- Biographies for Anders Thomas Jensen, Ulrich Thomsen, Mads Mikkelsen
- Bonus trailer for "Film Movement" spot (0:31), "Campfire" (2:18), "Marion Bridge" (1:57)
All Credits goes to Original uploader.