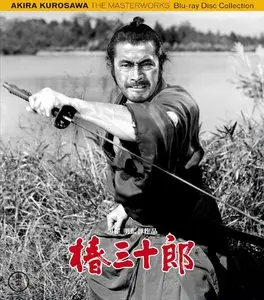 Tsubaki Sanjûrô (1962) aka Sanjuro - Akira Kurosawa
BD-Rip | MKV x264 at 4 317 Kbps | 1056 x 448 (2.357) at 23.976 fps | AAC at 200 Kbps (3 ch) 48.0 KHz
Language: Japanese | Subtitles: English, French | Runtime: 1h 35mn | 2.90 GiB
Sourced from the criterion bluray | Commentary track by Stephen Prince | Genres: Action, Adventure, Comedy, Drama

Cast: Toshiro Mifune, Tatsuya Nakadai, Keiju Kobayashi, Yuzo Kayama, Reiko Dan
Set in the mid-19th century when the disintegration of a rigid social structure was turning the once wealthy into paupers, or vice-versa, this kinetic drama by acclaimed Akira Kurosawa features the hero Sanjuro (Toshiro Mifune), one of many samurai whose once traditional positions were fast disappearing. In this tale of false perceptions and truth, of honor and dishonor, Sanjuro is a character who captures and holds attention from the moment he appears on screen. When he arrives in a small city, he discovers that a band of nine men are anxious to overthrow the corrupt ruling elite. Physically strong and agile, mentally sharp and clear-headed, Sanjuro still has an deep commitment to justice and honor underneath his dirty, abrasive, and cynical exterior. The nine men may doubt his nobility, but that is because they are only looking skin deep. While the sword fighting and action scenes are memorable, it is Toshiro Mifune's characterization and Kurosawa's camera eye that enhance the story.
(Eleanor Mannikka @ allrovi.com)
Review:
With Yojmbo, Akira Kurosawa retreated into lighthearted black comedy and found the perfect protagonist for the journey in Toshiro Mifune's shambling, ill-tempered ronin. Forced to align himself with two equally repulsive forces, he chose to play them against each other, destroying both in the process. You could call the character a cynic, and the film nihilistic, if Mifune didn't, despite intimations of amorality, ultimately do the right thing. Thanks to substantial commercial success, Kurosawa and Mifune re-teamed for a highly enjoyable sequel only a year later. This time out, Mifune encounters a group of nine experienced samurai who, after Mifune saves their lives, follow him around like ducklings. When Mifune joins them in their quest to rescue an honest chamberlain from the false imprisonment of a corrupt superintendent, he teaches his by-the-book charges the secrets of deception and subterfuge. As before, Mifune plays his character always on the verge of exasperation, this time pushed to the limit by the civilizing presence of two women. When one calls him out, remarking that killing has become a bad habit for him, it may play like a joke but, as usual with even Kurosawa's lightest films, there's more at work than may be immediately apparent. An intense finale reinforces this point, and suggests that the humanistic Kurosawa, like his hero in the Yojimbo/Sanjuro series, can only strike a cynical pose for so long.
(Keith Phipps @ allrovi.com)
IMDB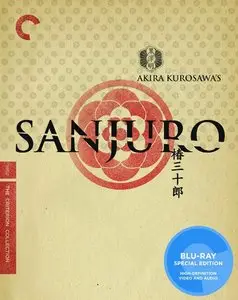 BD-Rip sourced from the criterion bluray. includes English & French subtitles
and commentary track by film historian and Kurosawa scholar Stephen Prince.

General
File Name : Sanjuro (1962).mkv
Format : Matroska
File size : 3.09 GiB
Duration : 1h 35mn
Overall bit rate : 4 607 Kbps

Video
Format : AVC High@L4.1
Resolution : 1056 x 448 pixels
Bit rate : 4 317 Kbps
Display aspect ratio : 2.357
Frame rate : 23.976 fps

Audio 0
Format : AAC LC
Bit rate : 200 Kbps
Channel(s) : 3 channels
Sampling rate : 48.0 KHz
Language : Japanese

Audio 1
Format : AAC LC
Bit rate : 70 Kbps
Channel(s) : 2 channels
Sampling rate : 48.0 KHz
Language : English

Subtitle 0
Format : ASS
Language : English

Subtitle 1
Format : UTF-8
Language : French

Thank You To Boris @ rutracker
Screenshots
(
Click to enlarge
)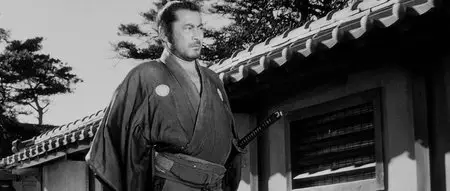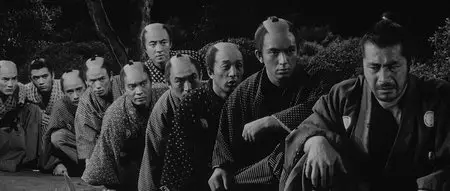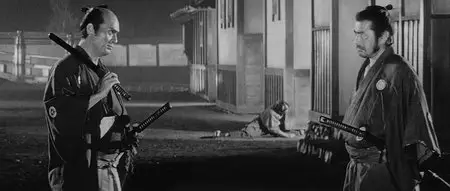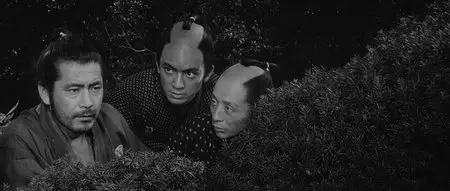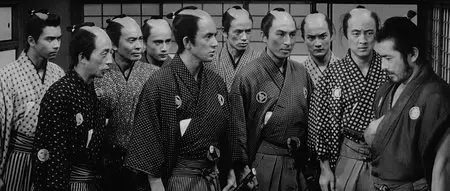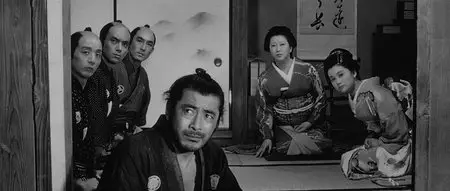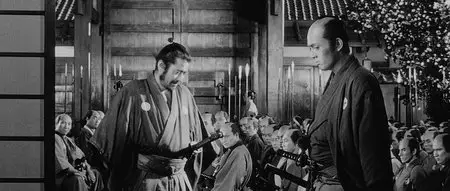 Rar Password:
None