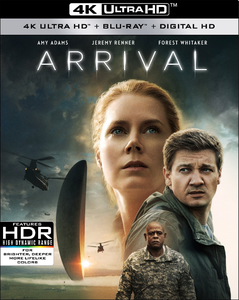 Arrival 4K (2016)A Film by Denis Villeneuve | Won 1 Oscar

4K UHD BDRip | mkv | x265 HEVC @ 7534 Kbps, 23.976 FPS | 3840 x 1608 | 1h 56min | 8.4 GB

7.1 English DTS-HD MA @ 2525 Kbps, 16-bit | Subtitles: English, Arabic, Chinese, Dutch, +more

Genres: Sci-Fi, Drama, Mystery

#95

| My List | 100 Greatest Films of All Time | Set 1
Director
:
Denis Villeneuve
Writers
: Eric Heisserer, Ted Chiang
Starring
: Amy Adams, Jeremy Renner, Forest Whitaker, Michael Stuhlbarg, Mark O'Brien, Tzi Ma
Linguist Louise Banks (Amy Adams) is taken by helicopter to a remarkable sight: a visiting alien spacecraft. It's situated itself in a remote corner of Montana, one of a dozen located around the globe, arranged in a seemingly random pattern. She and Theoretical Physicist Ian Donnelly (Jeremy Renner) have been recruited by Colonel GT Weber (Forest Whitaker) to ascertain the answer to one simple question: "why are they here?" Banks finds almost immediate success communicating with the aliens. They appear friendly, if not keeping their intentions a mystery. As she works to decipher their unique form of written communication and discover her own purpose in the aliens' contact with Earth, the world's nations and militaries grow increasingly impatient and prepare for war.
The film begins modestly with a quick and efficient and vital characterization followed by an eerie urgency of panic and fear. An alarm blares in a school. Security emerges en masse. Fighter jets zoom overhead. The mere presence of something different changes the world, exciting it, terrorizing it, shutting it down, and with the potential to bring out the best or worst man has to offer. The film rarely slows down from there. Villeneuve's craftsmanship keeps the intensity high in the first act, particularly as the film uses perspective in one place and sounds in another to fascinate and terrify the audience at the same time, revealing a literal alien world with different physical laws and characteristics, punctuated by startling music that elicits feelings of excitement, doubt, and fear all at the same time.
Even as the film follows with a series of scenes that feature Louise attempting to communicate with the aliens, wanting to understand, first, how they perceive written communication and, later, deciphering what it means, the film still pushes towards that singular question: why? Why are they here? Communication is, at first, a barrier, the most obvious one, but so too is the very concept of human perception. Again without spoiling the film, Arrival proves to be much more than a simple back-and-forth between two species, more than the process of sorting through their written communication and appropriately translating it. It dives into some heady territory and some deep philosophical and psychological concepts along the way, too, particularly as so much is revealed in the third act. Hints, or things that could be interpreted as hints, are laced throughout. The visiting ships appear almost egg-like. The aliens' written language is, at its most fundamental level, circular in nature. Are those clues or coincidence? Something to keep in mind while watching the movie.
If one could levy a criticism around the film, it would not be of the film itself, but rather its audience. It might be that man isn't quite ready to tackle the concepts it has to offer. They're hard, not in a way that the audience cannot decipher them, but hard in that it breaks down established and understood reality. It resonates and surprises in its own linear progression, but beyond that is a film that enters some exciting but at the same time terrifying areas that challenge the very notion of life as man has known it, thought of it, written of it, since he was able to wrap his head around it. The movie is about how man communicates not only with an alien race, but with himself. On a superficial level, Arrival banks on the excitement and terror of the unknown, the process of coming to understand the unknown, and its twist reveal in its final act. Yet it's so much more, a serious bit of art that does what so few examples of art do today: challenge. It will challenge the way people look at life and its progression, the way things work, and how humans perceive them to work. And it's hard. It could be argued that it's too emotionally hard to think of life in the way Louise comes to see it. The movie makes it accessible and, frankly, relatively simple, but the core concepts are pretty mind-blowing. All that said, it's a fantastic movie, very well conceived, and almost perfectly executed all-around (including a standout performance from Amy Adams). It's definitely a film worth re-watching both in an effort to pick up on any hints that point to its twist, better understand various context clues that link linguistics with the twist, make new thematic discoveries, feed on the challenge of better understanding all it has to say, and to simply enjoy watching it all unfold again.
- Review by Martin Liebman, Blu-ray.com
BEFORE YOU DOWNLOAD: Please make sure by searching the Internet that you have minimum system requirements to play H265/HEVC 4K video files. I've tested all my compressed files in a 3rd Gen Intel Core i3 @ 3.4 GHz machine with 8GB of RAM and 1GB DDR3 AMD Graphics card. All played just fine.
Please Note: Playback of this H.265/HEVC encoded video file in VLC media player may cause problem (like Green Screen). A fresh install of the player or a new version can solve this problem. I strongly suggest you to download and install "K-Lite Codec Pack (Full or Mega version; totally free with WMP Classic)" on your system first and then try to play the file in VLC. Or, you can just install PotPlayer, and no codecs will be needed. I use this player for playing all sorts of media… from MP3 audio files to 4K UHD video files.

Mac users please get help from the Internet and YouTube.

MS-4K