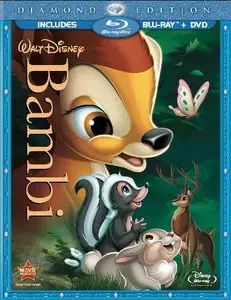 Bambi (1942)
BRRip 480p - TinyBearDs | MKV | 640 x 480 | x264 600kbps 23.976fps | AAC 64kbps 2CH
Language: English | Subtitle: English Included | 70min | 333MB
Genre: Animation | Drama | Family | Nominated for 3 Oscars. Another 2 wins & 1 nomination
IMDb Rating: 7.5/10 (29,275 votes)
Director:
James Algar, Samuel Armstrong, David Hand, Graham Heid, Bill Roberts, Paul Satterfield, Norman Wright
The animated story of Bambi, a young deer hailed as the 'Prince of the Forest' at his birth. As Bambi grows, he makes friends with the other animals of the forest, learns the skills needed to survive, and even finds love. One day, however, the hunters come, and Bambi must learn to be as brave as his father if he is to lead the other deer to safety.
An IMDb Review: Disney's Truest Masterpiece - Man Is In The Forest!
From the opening scene where the multiplane camera glides through a quiet forest until the stirring forest fire climax, a viewer has to be aware he is watching one of the all-time great films. So much of the cycle of life is covered that it's hard to realize the film is a mere 69 minutes. In a book called 'The Making of Bambi', Ollie Johnston reveals that originally there was much more footage that Disney eventually trimmed, cutting out whole sequences before the film previewed. Obviously, he made a wide decision.

There is no extraneous scene here, it moves seamlessly through its cycle of life story with the charming animal creatures carrying the story to its logical conclusion. The background music complements all of the drama and comedy. The storm sequence is the most beautiful blend of music and drawings ever achieved by the Disney artists. The naturally drawn deer are the result of months of careful preparation and study, giving the entire film the feel of a nature study as well as giving the audience great entertainment.

The choral work is extremely effective, particularly on songs like 'Love Is A Song' (Oscar nominated), 'I Bring You A Song' and 'Little April Shower'. The impressionistic forest glows with a life of its own and is the real star of the film, thanks to the influence of Japanese artist Tyrus Wong. No wonder this was Disney's favorite film. It will stay fresh and young forever. An awesome achievement!

In conclusion, having done some choral work myself as a glee club singer, I especially appreciated the great contribution made by the mixed chorus (male/female) that does such a wonderful job on all of the choruses that blend so seamlessly with the rich background score. Truly exceptional choral vocals conducted by Charles Henderson.
Screenshots: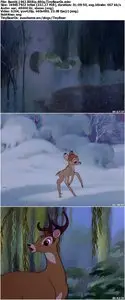 Download: