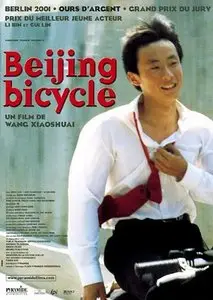 Beijing Bicycle (2001)
DVDrip | AVI | XVID - 1500 Kbps | AC3 192 kbps | 640x336 | Language: Mandarin | 113 min | 1.4 Gb
Subtitles: English+French+Spanish (SRT)
Genre: Drama
A seventeen-year-old country boy working in Beijing as a courier has his bicycle stolen, and finds it with a schoolboy his age.
A Pékin, de nos jours. Guei (Cui Lin), un adolescent de seize ans originaire de la campagne, reverse à son entreprise une partie de son salaire de coursier, afin d'acheter un magnifique VTT couleur argent avec lequel il travaille. Au cours d'une de ses courses, il se fait voler son vélo et part à sa recherche. Mais Jian (Li Bin), le nouveau propriétaire qui l'a acheté aux puces ne l'entend pas de cette oreille. Il va falloir apprendre à partager.
* Director: Xiaoshuai Wang
* Main Cast: Lin Cui, Xun Zhou and Bin Li