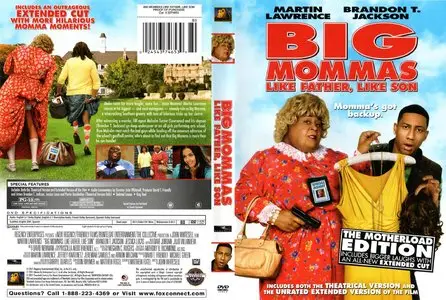 Big Mommas: Like Father, Like Son / Esta abuela es mi padre (2011)
Language: English, Espanol | Subs: English, Espanol, Norsk, Dansk, Suomi, Svenska
DVD5 | ISO | 01:42:56 | PAL 16:9 (720x576) VBR | AC3 5.1 - 448/384 Kbps | 4.36 Gb
Genre: Comedy | USA
IMDB
Directed by:
John Whitesell
Starring:
Martin Lawrence, Brandon T. Jackson and Jessica Lucas
English
FBI agent Malcolm Turner and his 17-year-old son, Trent, go undercover at an all-girls performing arts school after Trent witnesses a murder. Posing as Big Momma and Charmaine, they must find the murderer before he finds them.
Spanish
Big Momma (Lawrence) y Charmaine (Jackson) deben introducirse de incognitos en una escuela de artes escenicas femenina para desenmascarar a un asesino. Love interpretara a Kurtis Kool, un guarda de seguridad de la escuela que se enamorara de Big Momma. Rios, Doubleday y Ang desempenaran los roles de estudiantes de la escuela que se haran amigos de Jackson.