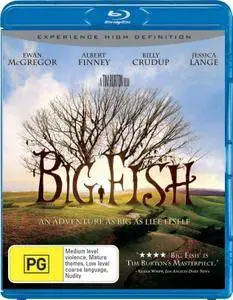 Big Fish (2003)
BDRip 720p | MKV | 1280 x 720 | x264 @ 2048 Kbps | 2h 5mn | 2,47 Gb
Audio: English AC3 5.1 @ 448 Kbps + Commentary track | Subs: English
Genre: Adventure, Drama, Fantasy | Director: Tim Burton
Throughout his life Edward Bloom has always been a man of big appetites, enormous passions and tall tales. In his later years, he remains a huge mystery to his son, William. Now, to get to know the real man, Will begins piecing together a true picture of his father from flashbacks of his amazing adventures in this marvel of a movie.
IMDB
- Nominated for 1 Oscar
Subtle, delicate, touching and fascinating pledge for the life as fruit of dream. About the ambiguous taste of imagination and about existence like a spectacular trip. About desire and reality like warm bread.

The director of "Big Fish" is Tom Burton. It is only decent definition of a film -mixture between childhood and small miracles, about a special image of ordinaries gestures and about hope in eccentric aspects. The texture is same of grandmother's tales in Christamas Eve or Sunday morning. A brave hero, strange village, temptation and huge love, success and discoveries, miracles and public, secret sense of life and courage. So, in many cases, the reality is only boring passage and the dream, the childish game, the sound of angel's voice or the strange facts are heart of magnificent act of contemplation.

It is a moral story but, in same measure is source of a way to look the world. The life is not a punish or bag of routine. The faith is not only part of a relation with God but with yourself. The others are, in great measure, parts of funny miracle and ineffable expectation.

The Ewan Mc Gregor acting is brilliant. Nuances, accents, inflexion of words, smile or gestures are bricks of a magnificent character, touching, warm, credible. In some moments, the film is spectacular dialog between McGregor and Albert Finney interpretation.

In fact, "Big Fish" is a tale. A fairy tale about life's magic out of words or exterior facts.
(Enlargeable)

Audio commentary
with director Tim Burton