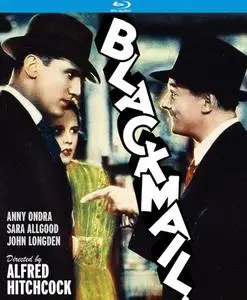 Blackmail (1929) + Extras
Sound and Silent Versions
BDRip 720p | MKV | 1280 x 720 | x264 @ 2560 Kbps | 1h 25mn/1h 16mn | 1,77 Gb/1,46 Gb + 180 Mb
Sound version: English AC3 2.0 @ 192 Kbps + Commentary track | Subtitles: English
Silent version: Score AC3 2.0 @ 192 Kbps with English intertitles
Genre: Crime, Film-Noir, Thriller | Director: Alfred Hitchcock
Alice White is the daughter of a shopkeeper in 1920s London. Her boyfriend, Frank Webber is a Scotland Yard detective who seems more interested in police work than in her. Frank takes Alice out one night, but she has secretly arranged to meet another man. Later that night, Alice agrees to go back to his flat to see his studio. The man has other ideas, and as he tries to rape Alice, she defends herself and kills him with a bread knife. When the body is discovered, Frank is assigned to the case, he quickly determines that Alice is the killer, but so has someone else, and blackmail is threatened.
(Enlargeable)
Sound Version:

Silent Version:

Audio Commentary
by film historian Tim Lucas (on the sound version only)
Extras:
– Introduction by critic Noël Simsolo (6:28)
– "Hitchcock/Truffaut: Icon Interviews" audio excerpt (10:27)