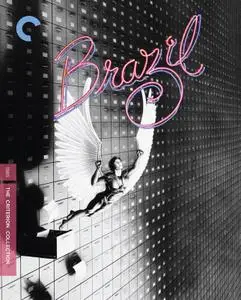 Brazil (1985) [Criterion Collection, Spine #51, Reissue]
DVD Video, 3 x DVD9 | NTSC 16:9 | 720x480 | 2hr 23mn | 17.6 Gb
English: AC3, 2 ch, 192 kbps \ English (Commentary): AC3, 2 ch, 192 kbps
Subtitles: English
Genre: Drama, Sci-Fi


Director:
Terry Gilliam
Writers:
Terry Gilliam (screenplay by), Tom Stoppard (screenplay by)
Stars:
Jonathan Pryce, Kim Greist, Robert De Niro
In the dystopian masterpiece Brazil, Jonathan Pryce plays a daydreaming everyman who finds himself caught in the soul-crushing gears of a nightmarish bureaucracy. This cautionary tale by Terry Gilliam, one of the great films of the 1980s, has come to be esteemed alongside antitotalitarian works by the likes of George Orwell, Aldous Huxley, and Kurt Vonnegut Jr. And in terms of set design, cinematography, music, and effects, Brazil is a nonstop dazzler.
Extras:DISC ONE:
- All-new, restored high-definition anamorphic digital transfer, supervised and approved by director Terry Gilliam, with a remastered Dolby stereo surround soundtrack
- Audio commentary by Gilliam
- Optional English subtitles for the deaf and hard of hearing
- PLUS: An essay by Jack Mathews
DISC TWO:
- A treasure trove of Brazil-iana:
- 30-minute on-set documentary What Is Brazil?
- Criterion's original expose The Battle of "Brazil": A Video History, which reassembles players in the battle over the film's U.S. release
- Hundreds of storyboards, drawings, and publicity and production stills
- Rare raw and behind-the-scenes footage
- Exclusive video interviews with the production team
- Original theatrical trailer
DISC THREE:
- The 94-minute "Love Conquers All" version of Brazil, with all the changes Gilliam refused to make
- An audio essay by journalist David Morgan
All thanks to the original uploader