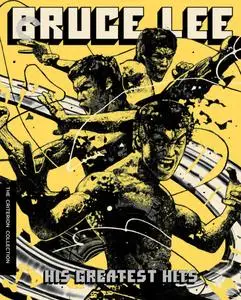 Bruce Lee: His Greatest Hits. Bonus Disc (2020) [Criterion Collection, Spine #1036]
Blu-Ray | BDMV | AVC, 1920x1080, ~35.8 Mbps | 1hr 42mn | 44,3 GB
English: LPCM Audio, 1 ch, 1152 kbps \ DTS-HD MA, 6 ch, 3789 kbps \ AC3, 1 ch, 192 kbps
Subtitles: None
Genre: Action, Crime, Drama, Thriller


Director:
Robert Clouse
Stars:
Bruce Lee
This 103 minute version of Enter the Dragon features a scene and some dialogue not present in the 1973 theatrical cut. The monaural track features mostly Bruce Lee's voice in the extra scene, while Lee's voice was dubbed for the 5.1 track.
Special Features:
- 2003 Commentary by producer Paul Heller
- Risk and Reward
- Bruceploitation
- Match the Lips
- The Grandmaster & the Dragon

                                                                                                                Total   Video                                             
Title                                                           Codec   Length  Movie Size      Disc Size       Bitrate Bitrate Main Audio Track                          Secondary Audio Track
-----                                                           ------  ------- --------------  --------------  ------- ------- ------------------                        ---------------------
00803.MPLS                                                      AVC     1:42:48 34 215 057 408  47 573 757 180  44,38   35,86   LPCM 1.0 1152Kbps (48kHz/24-bit)          DTS-HD Master 5.1 3789Kbps (48kHz/24-bit)



DISC INFO:

Disc Title:     BruceLee.HisGreatestHits.Suplements.Br
Disc Size:      47 573 757 180 bytes
Protection:     AACS
BD-Java:        Yes
BDInfo:         0.5.8

PLAYLIST REPORT:

Name:                   00803.MPLS
Length:                 1:42:48.162 (h:m:s.ms)
Size:                   34 215 057 408 bytes
Total Bitrate:          44,38 Mbps

VIDEO:

Codec                   Bitrate             Description     
-----                   -------             -----------     
MPEG-4 AVC Video        35855 kbps          1080p / 23,976 fps / 16:9 / High Profile 4.1

AUDIO:

Codec                           Language        Bitrate         Description     
-----                           --------        -------         -----------     
LPCM Audio                      English         1152 kbps       1.0 / 48 kHz / 1152 kbps / 24-bit
DTS-HD Master Audio             English         3789 kbps       5.1 / 48 kHz / 3789 kbps / 24-bit (DTS Core: 5.1 / 48 kHz / 1509 kbps / 24-bit)
Dolby Digital Audio             English         192 kbps        2.0 / 48 kHz / 192 kbps

FILES:

Name            Time In         Length          Size            Total Bitrate   
----            -------         ------          ----            -------------   
00308.M2TS      0:00:00.000     1:42:48.162     34 215 057 408  44 376          

CHAPTERS:

Number          Time In         Length          Avg Video Rate  Max 1-Sec Rate  Max 1-Sec Time  Max 5-Sec Rate  Max 5-Sec Time  Max 10Sec Rate  Max 10Sec Time  Avg Frame Size  Max Frame Size  Max Frame Time  
------          -------         ------          --------------  --------------  --------------  --------------  --------------  --------------  --------------  --------------  --------------  --------------  
1               0:00:00.000     0:08:37.099     35 467 kbps     48 429 kbps     00:00:22.522    38 767 kbps     00:00:18.518    37 055 kbps     00:00:13.596    184 895 bytes   640 646 bytes   00:00:00.000    
2               0:08:37.099     0:25:46.253     35 906 kbps     39 528 kbps     00:10:15.072    36 958 kbps     00:10:11.068    36 781 kbps     00:10:06.063    187 199 bytes   640 646 bytes   00:11:08.417    
3               0:34:23.352     0:11:08.542     36 143 kbps     38 024 kbps     00:40:46.652    36 811 kbps     00:36:29.979    36 667 kbps     00:40:37.768    188 433 bytes   311 474 bytes   00:34:28.775    
4               0:45:31.895     0:12:35.087     35 508 kbps     38 162 kbps     00:48:22.983    36 814 kbps     00:50:31.486    36 639 kbps     00:48:23.775    185 121 bytes   343 647 bytes   00:47:10.285    
5               0:58:06.983     0:18:04.833     35 780 kbps     38 615 kbps     01:02:30.246    36 818 kbps     01:06:55.094    36 678 kbps     01:05:31.218    186 539 bytes   336 671 bytes   01:00:19.490    
6               1:16:11.817     0:16:33.367     35 951 kbps     37 812 kbps     01:32:37.677    36 830 kbps     01:29:14.974    36 650 kbps     01:29:49.300    187 432 bytes   311 535 bytes   01:29:10.511    
7               1:32:45.184     0:10:02.977     36 150 kbps     41 218 kbps     01:42:39.361    36 876 kbps     01:37:03.108    36 704 kbps     01:35:11.414    188 498 bytes   607 321 bytes   01:42:47.077    

STREAM DIAGNOSTICS:

File            PID             Type            Codec           Language                Seconds                 Bitrate                 Bytes           Packets         
----            ---             ----            -----           --------                --------------          --------------          -------------   -----           
00308.M2TS      4113 (0x1011)   0x1B            AVC                                     6168,079                35 856                  27 645 057 319  150 331 175     
00308.M2TS      4352 (0x1100)   0x80            LPCM            eng (English)           6168,079                2 310                   1 781 366 052   9 869 064       
00308.M2TS      4353 (0x1101)   0x86            DTS-HD MA       eng (English)           6168,079                3 789                   2 921 466 844   16 832 728      
00308.M2TS      4354 (0x1102)   0x81            AC3             eng (English)           6168,079                192                     148 036 608     963 780         


All thanks to the original uploader