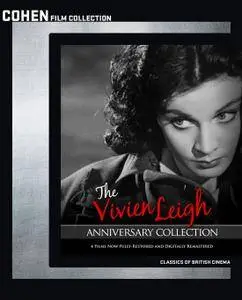 Dark Journey (1937)
BDRip 720p | MKV | 1280 x 720 | x264 @ 2048 Kbps | 1h 18mn | 1,30 Gb
Audio: English AC3 2.0 @ 320 Kbps | Subtitles: None
Genre: Adventure, Romance, Thriller | Director: Victor Saville
World War I is raging, but Swedish store clerk Madeleine Goddard (Vivien Leigh) has not aligned herself with either side. When she meets German soldier Karl Von Marwitz (Conrad Veidt), she falls in love. Karl, who presents as a footman of low rank, is in fact a high-ranking official in the German army. Madeleine has secrets of her own – she is a spy, working for the Allies. As Madeleine and Karl are pulled deeper into the war, their love may be the thing that saves their lives.
Vivien Leigh is even better in this film than she was in GONE WITH THE WIND. She has a fragile, hunted beauty which works perfectly for her role as the unwilling spy forced into romantic entanglements and deceptions. The story is murky, but that doesn't really matter. Watch the sequence where Vivien has been marched aboard ship and locked into her stateroom for deportment as an unwanted spy. Using just her eyes and her expression, Vivien does an entire scene of tossing in her sleep, going to the porthole, and lying back down to sleep again, showing every emotion from fear, suspicion, and doubt to acceptance of her own guilt. Then there's an explosion and she sits bolt upright, looking as fragile and unspeakably lovely as a hunted deer. This is a movie where the sheer radiance of the lead actress makes everything else seem dull by comparison.
(Enlargeable)