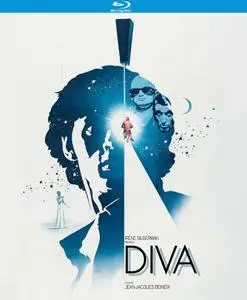 Diva (1981)
Blu-Ray | BDMV | AVC, 1920x1080, ~37.5 Mbps | 1hr 56mn | 37.9 GB
French (Français): DTS-HD Master Audio, 2 ch, 1555 kbps \ English (commentary): AC3, 2 ch, 192 kbps
Subtitles: English
Genre: Music, Thriller


Director:
Jean-Jacques Beineix
Writer:
Daniel Odier (novel) (as Delacorta), Jean-Jacques Beineix (adaptation)
Stars:
Wilhelmenia Fernandez, Frédéric Andréi, Richard Bohringer
Director Jean-Jacques Beineix (Betty Blue) launched the Cinéma du look movement with this stylish cult thriller that remains as innovative today as when it premiered in 1981. Jules (Frédéric Andréi), a young postal carrier, illegally tapes a concert of a reclusive opera singer (American soprano Wilhelmenia Wiggins Fernandez). Jules' attempts to woo the diva are interrupted when Taiwanese bootleggers come after the recording. His problems worsen when a prostitute slips another tape, one that incriminates a police chief, into his bag. Now, Jules must escape the police chief, the cop's henchmen and the bootleggers to keep both precious tapes safe—and to stay alive. Featuring a celebrated chase through the Paris Metro and an early appearance by Jean-Pierre Jeunet (Amélie) favorite Dominique Pinon, Diva earned César Awards for Beineix, Vladimir Cosma's (Le Bal) sumptuous music and Philippe Rousselot's (Henry & June) eye-popping cinematography.
Film Distributor:
Kino Lorber
Extras:
- NEW Audio Commentary by Film Critic and Author Simon Abrams
- Scene Specific Audio Commentary by Director Jean-Jacques Beineix
- Introduction by Professor Phil Powrie (Author of JEAN-JACQUES BEINEIX) and Eric Grinda (6:20)
- Interview with Composer Vladimir Cosma (10:47)
- Interview with Casting Director Dominique Besnehard (7:20)
- Interview with Star Frédéric Andréi (5:46)
- Interview with Actors Anny Romand and Dominique Pinon (12:02)
- Interview with Actor Richard Bohringer (6:53)
- HOLDING GROUND with Director Jean-Jacques Beineix (11:00)
- IN THE CAFÉ with Director Jean-Jacques Beineix (8:30)
- Interview with Cinematographer Philippe Rousselot (6:04)
- Interview with Set Designer Hilton McConnico (6:50)
- Theatrical Trailer
All thanks to the original uploader
More in My Blog

If you like this release please visit my blog
In it you will find Blu-Ray releases in different languages