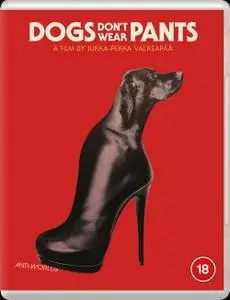 The Man from Acapulco / Le magnifique (1973)
Blu-Ray | BDMV | AVC, 1920x1080, ~33.6 Mbps | 1hr 44mn | 44.1 GB
Finnish (Suomi): DTS-HD Master Audio, 6 ch, 2722 kbps \ English (commentary): AC3, 2 ch, 192 kbps
Subtitles: English
Genre: Drama, Romance


Director:
J.-P. Valkeapää
Writer:
Juhana Lumme (original story), Juhana Lumme
Stars:
Pekka Strang, Ester Geislerová, Ellen Karppo
The story follows Juha who develops an unexpected but powerful connection with a dominatrix named Mona, following a tragic event in his life that has left him emotionally paralyzed. His dangerous addiction to suffocation is reciprocated by Mona leading them both down a wild and crazy path towards emotional enlightenment. Dogs Don't Wear Pants is a darkly humorous story of loss, love and the sweet pain of being.
Extras:
- Newly recorded in-depth interview with writer-director J-P Valkeapää (2020, 20 mins)
- Newly filmed interviews with the films stars: Krista Kosonon and Pekka Strang
- MK3D audio interview with film critic Mark Kermode
- English language audio commentary by writer-director J-P Valkeapää
- Storyboard to screen comparisons
- Downloadable storyboards for the entire film
- Behind the scenes stills gallery
- Theatrical trailer
Film Distributor:
Anti-Worlds
More in My Blog

If you like this release please visit my blog
In it you will find Blu-Ray releases in different languages