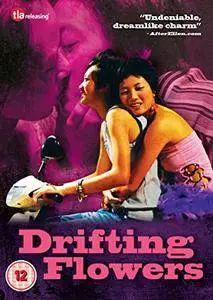 Drifting Flowers (2008)
BRRip 720p | MKV | 1280x720 | x264 @ 2323 Kbps | 96 min | 1,86 Gb
Audio: Mandarin (官话) AC3 5.1 @ 448 Kbps | Subs: English (embedded in MKV)
Genre: Drama, Romance
Three poetic tales of seeking the true identity. In the first story, Jing, a blind singer, falls in love with her band's tomboy accordionist Diego. In another time and place, Lily, an elderly lesbian and Yen, her gay friend, create an unexpected bond and support each other in a time of crisis. Finally, we see Diego before she joined the band, when as a teenager she came to grips with her gender identity.
While not perfect, seamless or easy to watch, Zero Chou's movie is definitely a gem. This movie features three stories (one character reappears to lead their own story on the 3rd) that revolve around queerness. The first featuring a blind woman who works at a karaoke and takes care of her sister alone. This new worker arrives and changes both their lives. Pedophilia is quite common in LGBT films and people excuse it too much, for lack of choice and just the very strong need for representation, I say this because there was a danger of it in this story. While I'm sure someone might disagree, I think this thankfully doesn't fall into that trap and handles it well. The second story starts on a really high note with a welcome injection of comedy. We jump ahead after the title card to a much later period of time however, and from there it is the opposite. It explores transitioning and involves a certain sickness. Very heavy and difficult to get through, but mostly worth it. The third story is the most conventional sort of coming-of-age kind of story about puberty and exploring your sexuality. It ends on a positive note and will also leave you wondering how this character went from that to how we meet them in the first part of the story. I hope we get more LGBT films from Zero Chou for it has been a pleasure.
(click to enlarge)

More in My Blog