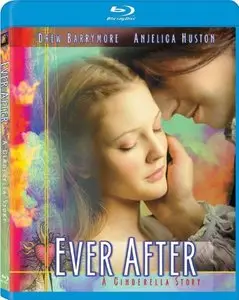 EverAfter / Ever After: A Cinderella Story (1998)
1080p BluRay Rip | MKV | 1920 x 816 | x264 @ 11332 Kbps | 02:01:13 | 11,17 Gb
Audio: English DTS 5.1 @ 1536 Kbps | Subtitles: None
Genre: Romance, Comedy, Drama | 5 wins | USA
Andy Tennant directed this Cinderella variant. The Brothers Grimm arrive at the home of a wealthy Grande Dame (Jeanne Moreau) who speaks of the many legends surrounding the fable of the cinder girl before telling the "true" story of her ancestor. In flashback, the story then focuses on eight-year-old Danielle, daughter of a wealthy widower, a 16th-century landowner. After returning to France with his new wife Rodmilla (Anjelica Huston) and her two daughters, he dies of a heart attack. Ten years later, Danielle (Drew Barrymore) is now treated as a servant by the trio. Fortunately, she has an encounter with Prince Henry (Dougray Scott), who is fleeing an arranged marriage. Later, when Danielle poses as a Lady, the Prince takes an interest in her. Inventor-artist Leonardo da Vinci (Patrick Godfrey), accepting the French court's patronage, offers advice to Prince Henry on matters of the heart. George Fenton's music adds an accompaniment to the lush look of this period romance.
IMDB
There isn't much to improve upon when dealing with a classic fairy tale, but surprisingly, this charming (if slightly overlong) update of the Cinderella story has a good deal to offer even those completely familiar with its tried and true yarn. Beautifully photographed in Super-35 on location in France, with pitch-perfect production design, Ever After succeeds in creating something with a modern bent while still retaining the core of integrity that makes its story continue to resonate. Drew Barrymore is far too contemporary for the lead role, but her effortless charisma carries the film regardless, and the supporting cast is expertly chosen, with a suitably dashing Dougray Scott and wonderfully sneer-worthy Anjelica Huston standing out among many apt performances. The movie doesn't fully capitalize on its strengths, and Andy Tennant's direction is suitable but unsurprising; still, the film is classy, straightforward entertainment and designed to please. Its video version has been rated PG, seemingly with a few trims to make it even more family friendly.


Jason Clark, Rovi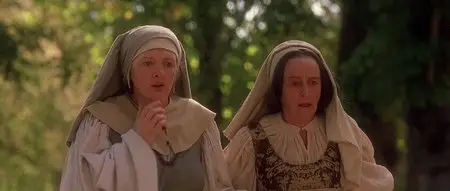 Isn't it what most people dream of? Prospering despite the difficulties in their lives? Finding their true love and being with him/her despite the odds?

This movie is most definitely not a retelling of the Cinderella story. It has aspects of that, the basic plotline, but a twist all its own. Gone is the pumpkin and the rats into footmen. Gone are the ugly stepsisters, the two equally horrid. No, in this one there is naturally one horrid stepsister, but the other is quite lovable. Dougray Scott is marvelously funny in his role as a Prince trying to find his way, and Angelica Huston is a brilliant evil stepmother, and Drew Barrymore makes a stunning Danielle… With other quirky characters thrown in along the way. Gustave, DaVinci, even the King and Queen are given personalities. The detail is incredible, the costumes gorgeous, and the dialogue enrapturing. This movie is counted among my most favorites, and I highly recommend it to any with a passion for romance.


IMDB Reviewer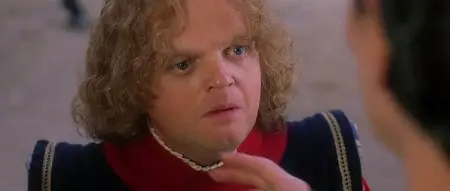 If you're going to stick your hand up the Cinderella story's dress and give it a good goosing, who better to have as a partner in crime than Hollywood's cheeky flower child, Drew Barrymore?

Though director Andy Tennant's past is more than a little chequered (It Takes Two starring Steve Guttenberg and the Olsen twins from Full House, and the Matthew Perry bomb Fools Rush In), he's finally hit pay-dirt with his casting choices and thrown up a modern fairy tale of undeniable charm, wit and passion. When his sense of invention collides with Barrymore's high powered charisma and sex appeal, Ever After announces itself as one of the most enjoyable films to come along in ages.




This is Cinderella sharpened up for the post-feminist nineties. It's 16th century France and Danielle (Barrymore) has a wicked stepmother (Huston) who messes with her head instead of getting her to clean up messes. Her stepsisters (newcomer Megan Dodds, and Melanie Lynsky from Heavenly Creatures) are ugly, but not on the outside; it's their souls that are covered in boils and facial hair. There's no Fairy Godmother, but there is a wise mentor in the form of visiting genius Leonardo Da Vinci (Patrick Godfrey). And while the prince (Scott) is charming, he's also a bit of a snobby wimp who needs some straightening out.




Investing this old fairy tale with a sense of social significance is no mean feat, but Tennant has done it seamlessly. Weaving issues of class and gender into the film's gentle fabric, he has given it a surprising dose of grit and meaning that reflects beautifully off its romantic heart.

But the casting is where it really counts: Huston spits malice without ever sliding into camp, Scott effortlessly mixes warmth and mean spiritedness, and Barrymore holds it all together.




Swapping her LA Valley Girl accent for a flat British one, Drew is at her most enchanting. Her intelligence and resourcefulness are offset by a heart breaking vulnerability; when she asks her stepmother if she ever loved her even a small amount and is met with the reply "How can one love a pebble in one's shoe?", the effect is devastating. Barrymore proves with this role that she is more than just bait for "Entertainment Tonight"; she's an actress.

Rich with humour and romance, and beautifully spun visuals, Ever After is a delightful surprise. See it before you turn into a pumpkin.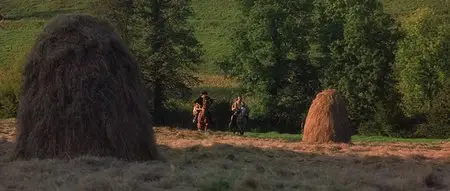 Download:










Interchangable links.
No More Mirrors.