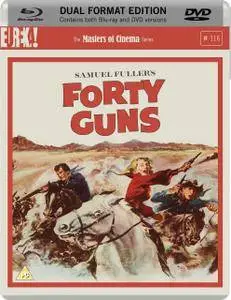 Forty Guns (1957)
BDRip 720p | MKV | 1280 x 720 | x264 @ 2560 Kbps | 1h 20mn | 1,63 Gb
Audio: English AC3 1.0 @ 160 Kbps + Fuller's Audio interview | Subs: English
Genre: Romance, Western | Director: Samuel Fuller
Tougher-than-nails landowner Jessica Drummond (Barbara Stanwyck) has ruled over her county in Arizona with such power that even the local sheriff (Dean Jagger) won't stand up to her. And when gunslinger-turned-U.S. Marshall Griff Bonnell (Barry Sullivan) and his brothers seek to restore law and order, they meet with harsh resistance – that is until Jessica falls in love with Bonnell. But when the man's brother is murdered and the two families become bitter enemies, Jessica's loyalty is divided, and Bonnell faces his biggest moral dilemma: how to avenge his brother's death and still maintain his vow of non-violence.
This movie is one of my favorite Sam Fuller films and for that matter of one Stanwyck's best. This was one of Stanwyck's later pictures when she had a lower price range and she made some of her best pictures in this period. I know not too many people are going to agree with that but so what. Barry Sullivan never made it out of the "B" pictures and when he did he was just in a supporting role. Sullivan plays a Wyatt Earp type with his two brothers and he just wants to retire. The old west is dying out and Stanwyck would also like to get out. This movie sort of reminds you of Johnny Guitar with Joan Crawford but it would hard to say which one is better. If you are a fan of Stanwyck's or Fuller's would should see this movie.
(Enlargeable)

Note:
- There's a second audiotrack: Audio interview with Samuel Fuller from 1969 at the National Film Theatre in London (80:05)