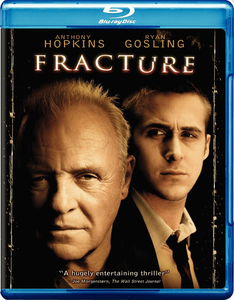 Fracture (2007)
One of the Best Detective/Mystery Movies of My Choice
1080p BDRip | mkv | x265 HEVC @ 1009 Kbps, 23.976 FPS | 1920 x 1080 | 1h 53min | 1.33 GB
Audio: English Dolby Digital (AC-3) 5.1 @ 640 Kbps, 16-bit | Subtitle: English
Genres: Crime, Drama, Mystery, Thriller
Director
: Gregory Hoblit
Writer
: Glenn Gers
Starring
:
Anthony Hopkins
,
Ryan Gosling
, David Strathairn, Rosamund Pike, Embeth Davidtz, Billy Burke
Before moving to another company, Willy Beachum, the district attorney's assistant, takes on the case of Ted Crawford, who shot his wife in the head. Beachum thinks this case will be wrapped up easily enough, because they have the criminal's admission of guilt. But the results of the investigation lead to the realization that the defendant has no single piece of incriminating evidence on him. So, who actually shot Crawford's wife? An exciting detective movie that doesn't show all its cards until the very end.
Hopkins delivers his best… erm, Anthony Hopkins impression as a crafty engineer named Ted Crawford who shoots his wife (Embeth Davidtz), peacefully surrenders to a shifty detective (Rob Nunally), and quickly admits to committing the crime during his subsequent interrogation. But despite his own admission and the overwhelming evidence at hand, Crawford later withdraws his confession and expresses his intention to defend himself at trial. His opposing counsel? A winsome deputy district attorney named William Beachum (Ryan Gosling) whose lax disposition and adherence to the law eventually costs him his prime suspect, his case, and his career. Determined to ensnare the acquitted Crawford and stop him from legally pulling the plug on his comatose wife, Beachum has to best the wily mastermind at his own game.

I know, I know… it isn't the most original concept to roll out of Hollywood in the last few years. And yes, I understand the plot challenges the boundaries of logic a bit to keep its protagonist and antagonist locked in a deadly clash of horns, but it's hard to hate a film whose lead actors are so utterly committed to their performances. Hopkins laps up every scene with the measured intensity of a jungle cat; his every syllable poison, his every glare a chilling reminder that his character is indeed the manipulative murderer Beachum thinks he is. As for Gosling, the emerging powerhouse continues to brandish his impressive talents, further establishing himself as one of the industry's safest bets. While not as memorable as his work in Lars and the Real Girl, The United States of Leland, or the exceptional Half Nelson, his turn as a cocky, self-assured lawyer is nevertheless an effective one. In fact, only Burke's pedestrian performance as a lovelorn detective threatens to spoil the proceedings: his part is certainly underwritten, but it seems a more convincing dash of emotional complexity would have allowed him to make more of his brief scenes.

I would never use the words "perfect" or "brilliant" to describe Fracture's sturdy screenplay ("formulaic" and "rote" would probably be more fitting), but I have to hand it to writers Daniel Pyne and Glenn Gers for keeping viewers in the dark for the majority of the film, crafting a pair of deliciously-determined characters, and injecting palpable tension into what could have been a series of tiresome courtroom scenes. Likewise, it would be easy to accuse Hoblit of trying to cull the depths of his own Primal Fear (in which yet another scheming killer pulls the strings of the legal system to earn his undeserved freedom), but the director seems keenly aware of the potential similarities and does his best to distinguish Fracture from his former courtroom drama. Ultimately, Hopkins and Gosling elevate both script and film to craft a mesmerizing battle of wits. It isn't the greatest thriller of the decade, but it proves itself to be a competent, confident entry in an overcrowded, often underwhelming genre.
NOTE
:
If your favourite media player (VLC) fails to play this video, you can install PotPlayer and run the video with it. If PotPlayer also fails to play it, please send me a private message.

Mac users may get help from the Internet. As I don't have a Mac device, I couldn't test this video on this platform.