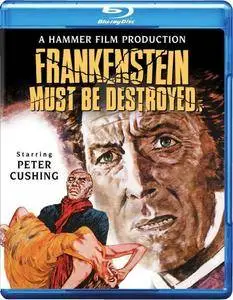 Frankenstein Must Be Destroyed (1969)
BDRip 720p | MKV | 1280 x 720 | x264 @ 2048 Kbps | 1h 40mn | 1,55 Gb
Audio: English AC3 1.0 @ 160 Kbps | Subtitles: English (embedded)
Genre: Horror, Sci-Fi | Director: Terence Fisher
Baron Frankenstein travels to a new town to meet Dr. Brandt, with whom he had hoped to collaborate. When he learns that Brandt is in a mental asylum he takes a room in a boarding house run by Anna, whose fiance, Karl, is a doctor who works at the asylum. Blackmailing Anna and Karl into helping him, Frankenstein kidnaps Brandt to learn his secrets.
Peter Cushing will always be THE final word on the role of Baron Frankenstein. Cunning, arrogant, relentless and above all else,charming. It could also be said that Terence Fisher is the final word on not only directing Hammer's Frankenstein series but Hammer films in general. This is not a new theory by any stretch regarding Fisher. His was the style by which all who played for Hammer's team would in some way emulate. It is no surprise, therefore, that FRANKENSTEIN MUST BE DESTROYED would be so good. Both actor and director had become pretty familiar with this material but rather than go through the motions something high above the expectation mark occurs. A good script certainly helps and indeed this time around there is. It is the relished performance of Peter Cushing and the carefully executed direction of Fisher which gives this film it's tasty Gothic flavor. Never seen a Hammer film? Here's your chance to sink your teeth into a good one.
(Enlargeable)