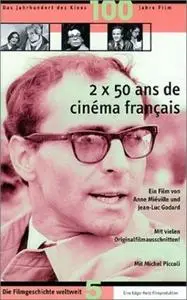 2 x 50 Years of French Cinema (1995)
DVDRip | AVI | 640x496 | XviD @ 1495 Kbps | 50 min | 594 Mb
Audio: Français MP3 @ 147 Kbps | Subs: English (srt)
Genre: Documentary
Directors
: Jean-Luc Godard, Anne-Marie Miéville
Stars
: Fabrice Bénard, Patrick Gillieron, Jean-Luc Godard
At a lakeside hotel, Michel Piccoli discusses the centennial of cinema with Jean-Luc Godard. Godard asks why should cinema's birthday be celebrated when the history of film is a forgotten subject. Through the remainder of his hotel stay, Piccoli tests Godard's hypothesis.
I managed to see this film subtitled and I enjoyed every minute of it. I love the perfect precision Godard has over Piccoli. Evertime Picolli speaks, Godard interrupts and overwrites his information with with a more profound and articulate meaning - thus leaving Piccoli anxious and frustrated, this happens quite often - absolute genius.

Also, Its really funny to see the workers (of the place the documentary is set) getting asked about trivial information on the golden age of cinema - they literally don't have a clue. I know this is a reconstruction and you can obviously tell that it is staged but it reconstructs how ignorant some people are, only knowing names like Arnold Schwarzenegger & Madonna and only hearing of films such as Pulp Fiction (because of its mainstream violence) and 9 1/2 Weeks (because of it's mainstream nudity) and how these films are publicised just because of their so-called content. This Documentary also tries to rule out the forgotten french cinema (golden-age that is) and it's true - Godard's part in the first 1/3 is worth seeing alone.

but overall, this was very interesting and anybody interested in french cinema (or cinema in general) should try and see this.
(click to enlarge)

More in My Blog