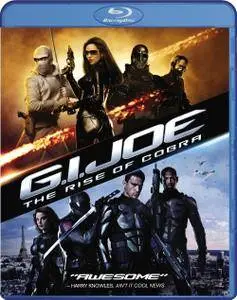 G.I. Joe: The Rise of Cobra (2009)
BDRip 720p | MKV | 1280 x 720 | x264 @ 2560 Kbps | 1h 57mn | 2,67 Gb
Audio: English AC3 5.1 @ 448 Kbps + Commentary track | Subtitles: English
Genre: Action, Adventure, Sci-Fi | Director: Stephen Sommers
Armed with the latest in military and spy technology, the team of elite soldiers known as G.I. Joe travel around the globe to wherever their services are needed. In their latest assignment Gen. Hawk (Dennis Quaid), Duke (Channing Tatum) and the rest of the G.I. Joe team take on Destro (Christopher Eccleston), a corrupt arms dealer, and fight the growing threat of the mysterious Cobra organization.
Please, take note that I rated this film 8 only because of it's value as an action film, but that's exactly the point I came here to get across. Everybody seems to have the same argument when they trash this film.. "it's all effects and no brains or dramatic undertones". OK, that is true, I've got to admit, but then again what kind of movie were these people actually expecting to see? Huh?!

G.I. Joe is as pure as an action film can possibly be and most importantly, it doesn't pretend to be anything else. Look at the poster. Check out the trailer. After those, were you perhaps waiting to see an Ingmar Bergman film? IT'S G.I. JOE, for Christ's sake! And I must say that in it's category, it isn't that bad. Sommers can direct good action sequences (the pursuit on the streets of Paris is stunning!) and although the film is obviously overblown with ridiculous gadgets and over the top plot lines, it doesn't matter because Joe succeeds in it's ONLY primary mission: to be entertaining. It's never boring and it's the silly fun it was always going to be.

So in a nutshell.. if you want a serious film to watch, check out There Will Be Blood or Doubt, but if you just want to forget for two hours the mess your leaders have left your nation, nay, the *world* and just have fun, check out this action film. Thank you.
(Enlargeable)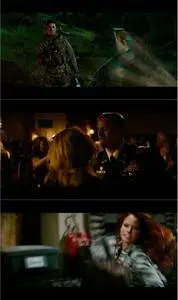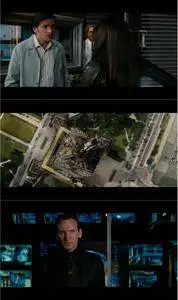 Audio Commentary
with Director Stephen Sommers and Producer/Editor Bob Ducsay. They deliver a good but somewhat unremarkable commentary that delves into the frenetic pace of the production and the writing thanks to the impending writers strike, the cast, shooting locations, the work of creating a big-budget Action movie, the extensive use of visual effects and the many fine details therein, Snake Eyes' outfit, their influences, working with Hasbro, and much more.
G.I. Joe: Retaliation (2013)