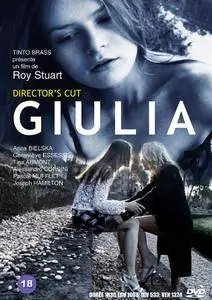 Giulia (1999) [Uncut]
DVDRip | AVI | 608 x 368 | DivX @ 2389 Kbps | 77 min | 1,37 Gb
Audio: French MP3 @ 128 Kbps | Subs: English hardcoded
Genre: Drama, Fantasy, Erotic
Midsummer night, 1894, in northern Sweden. The complex strictures of class bind a man and a woman. Miss Julie, the inexperienced but imperious daughter of the manor, deigns to dance at the servant's party. She's also drawn to Jean, a footman who has traveled, speaks well, and doesn't kowtow. He is engaged to Christine, a servant, and while she sleeps, Jean and Miss Julie talk through the night in the kitchen. For part of the night it's a power struggle, for part it's the bearing of souls, and by dawn, they want to break the chains of class and leave Sweden together. When Christine wakes and goes off to church, Jean and Miss Julie have their own decisions to make.
As a movie-freak I get to see perhaps almost as many movies as an official critic and, like a critic, I am always looking for The One, the film that stands out from the (vast) crowd and makes you think you haven't wasted any precious time in the watching. But more than that, the one that makes you feel a sense of gain, moving forward in some way, in your thinking or even in your perception of certain things. Only master film makers can make you feel like this, from Tarantino to Eastwood, from Jackson to Spielberg. Then of course you have the rogue directors, the rebels against convention who want to show you something different, not just for different's sake but because they are themselves motivated and inspired by things most people haven't yet approached or experienced. Bergman was such a director, as were the great Italians, Pasolini, Visconti and Fellini, and still we have Bertolucci. Now I find a New Yorker turned Parisian, whose work calls to mind some of these Masters, but through an influence that is subtle enough for it to be subconscious rather than a heavy handed copying of style and technique. Roy Stuart is a new comer to film but by no means to photography - erotic photography - the medium in which he has established himself thoroughly as a Master, admired and collected by large numbers of fans throughout the world. That he has turned from still photography to the moving kind is to our gain, as although young at the medium, he uses it with an almost equal mastery that he uses his still camera, and I don't believe anyone seeing his first film, Giulia, will doubt that he will even surpass in film what successes he has achieved in the world of the erotic photographer. What Roy Stuart achieves - for me - in this first film is the remarkable quality of eroticism throughout, even when the subject before us is not apparently erotic at all….but it is, for him, and he passes that feeling on; it is for him present in the deepest Freudian sense, that is to say ever-present in all situations, in our very beings. And so after watching a work by Stuart one has the almost uncanny feeling that one has just been watching very close friends in their private moments…because what one has actually been watching is a glimpse into a part of oneself with which we haven't necessarily been too familiar before. All great films make us feel this in different ways or measures and we can now welcome Roy Stuart into the great arena of those who make us more aware - as well as entertaining us in the extreme.
(click to enlarge)