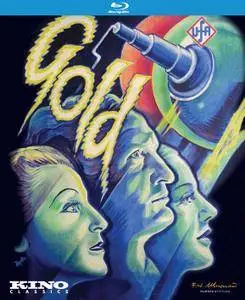 Gold (1934)
BDRip 720p | MKV | 1280 x 720 | x264 @ 2560 Kbps | 1h 57mn | 2,23 Gb
Audio: German AC3 1.0 @ 160 Kbps | Subtitles: English (embedded)
Genre: Crime, Sci-Fi | Director: Karl Hartl
After his colleague and a mentor, Prof. Achenbach dies in a set-up accident, while trying to produce gold from the lead, Werner Holk seeks revenge. Meanwhile, a British millionaire suggests that Holk work on him on a similar project.
This little known movie is one of the best sci-fi movies made in the 1930's. Hans Albers is well cast as the lead. The female lead also is well chosen. Brigitte Helm (METROPOLIS), here in one of her last screen-roles, plays the femme fatale. The film tells the story of two scientist, who have discovered a way to make gold from lead. It"s achieved by using radioactivity. The experiment gets sabotaged by an unscrupulous tycoon, who likes to cash in on this discovery. One of the scientists (Friedrich Kayssler) dies when the lab explodes, the other one (Hans Albers), after recovering from his injuries, tries to find the saboteur. He very soon gets hired by the very person, and he pretends to play along with the tycoon's (Michael Bohnen) plans. The tycoon's daughter (Brigitte Helm) helps the hero, and of course, there will be a happy ending. The sets are breathtaking (for its time) and look very real- so real in fact, that during WWII the Americans confiscated a copy of this movie to find out how advanced the Germans use of radioactivity really was. For fans of this genre, this is a must.
(Enlargeable)