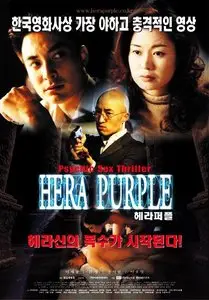 Hera Purple (2001)
DVDrip | AVI | XVID - 656 Kbps | AC3 - 192 kbps | 640x336 | Language: Korean | 93 min | 700 Mb
Subtitles: English+Spanish (SRT)
Genre: Erotic, Thriller
A woman, feeling uneasy, goes to see a psychiatrist in hopes that he will be able to find the root of her discomfort. Quite perplexed by her case, he proposes use of "the hypnotic method" to figure out what ails her. It's not long before she is telling him stories of various murders that she has committed. It seems that she is possessed, and has a tendency toward putting young men in her spell (via crotch-grabbing), mating with them, and then drawing their essence from them at the moment of climax.
* Director: Kil-chae Jeong
* Main Cast: Se-chang Lee, Chang Kim, Ho-seong Lee, Chun-bae Uhm