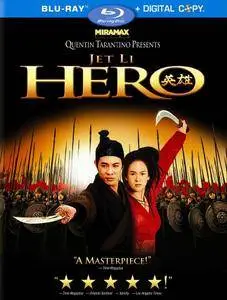 Hero (2002)
BDRip 720p | MKV | 1280 x 720 | x264 @ 2560 Kbps | 1h 39mn | 2,53 Gb
Audio: English AC3 5.1 @ 448 Kbps + Mandarin (官话) AC3 5.1 @ 640 Kbps | Subs: English
Genre: Action, Adventure | Director: Yimou Zhang
From acclaimed Chinese director Zhang Yimou comes this film set during the 'warring states' period in Chinese history when the country was divided into seven kingdoms. A low–ranking sheriff comes to the court of the king of one of the most powerful regions to claim a prize for killing three legendary warriors – Broken Sword, Flying Snow and Sky. But just how much of what the sheriff says can be trusted?
IMDB
- 46 wins + Nominated for 1 Oscar
Some reviewers have suggested that the storyline of this movie is a bit plodding and portentous, and I'd be willing to allow that. But even if this film had absolutely no plot to speak of, I would have considered the money I plunked down yesterday to see "Hero" to be money well-spent, because I have been witness to some of the most achingly beautiful film-making I've ever seen. As in "Crouching Tiger, Hidden Dragon," the characters here fly through the air and dance across water, but "Crouching Tiger" surely could have benefited from the sublime camera eye of "Hero." One scene of swordplay in particular that takes place in a grove of trees amongst swirling yellow leaves almost stopped my heart in my chest: It was that gorgeous. And yes, there is a plot also, one that involves various assassins with names like Sky, and Broken Sword, and Flying Snow. I have to admit that the tales and counter-tales told were a bit confusing at first, but by the time the film is over, all the pieces have fallen into place, and this chapter of ancient Chinese history has assumed a truly mythical quality. At a time when movie theaters show a lot of utter dreck, we ought to be supporting movies like this.
(Enlargeable)