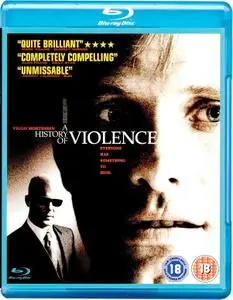 A History of Violence (2005)
BDRip 1080p | MKV | 1920x1080 | x264 @ 5760 Kbps | 95 min | 4,15 Gb
Audio: English AC3 5.1 @ 448 Kbps | Subtitles: English (embedded in MKV)
Genre: Crime, Drama, Thriller
Director:
David Cronenberg
Writers:
John Wagner (graphic novel), Vince Locke (graphic novel), Josh Olson (screenplay)
Stars:
Viggo Mortensen, Maria Bello, Ed Harris
Leading a happy and quiet life with his lawyer wife and their two children in the small town of Millbrook, Indiana, mild-mannered Tom Stall cherishes his simple, uneventful existence. However, their idyllic lifestyle is shattered when, one night, Tom saves his customers and friends in self-defence, foiling a vicious attempted robbery in his diner by two violent wanted criminals. Now, heralded as a local hero, Tom's life is changed overnight, attracting unwanted attention, and a national media feeding frenzy. Uncomfortable with his newfound celebrity, Tom tries to return to normalcy, only to find himself confronted by a mysterious man who arrives in town believing Tom is the man who wronged him in the past. More and more, as Tom and his family struggle to cope with their new reality and this case of mistaken identity, they have no other choice but to fight back and protect all that they hold dear. But, is there more to Tom than meets the eye? Does he have, indeed, a history of violence?
IMDB
- 37 wins + Nominated for 2 Oscars
(click to enlarge)

More in My Blog