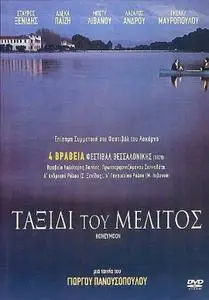 Honeymoon (1979)
DVDRip | MKV | 694x452 | x264 @ 2200 Kbps | 99 min | 1,66 Gb
Audio: Ελληνικά AC3 2.0 @ 192 Kbps | Subs: English (embedded+srt)
Genre: Drama
Director:
Giorgos Panousopoulos
Writer:
Giorgos Panousopoulos
Stars:
Stavros Xenidis, Aleka Paizi, Betty Livanou
Taxidi Tou Melitos is about the fear that most elderly people experience: approaching death. Leon (Stavros Xenides) and Zaharoula (Betty Livanou) are heading out for their annual vacation at a summer resort. Instead of their usual carefree anticipation, their mood is subdued because their daughter has just married and is off on her honeymoon. Life is lonely without her and the couple cannot avoid the realization that death is not that far away for them. Once at the resort, Leon tries to overcome this nagging fear by taking a wild plunge in the ocean, naked, as he and Zaharoula are out walking on the beach. Taken up in the spirit of the moment, she joins him among the waves. The results, however, are not what they expected.
It's a real shame that this movie is totally ignored by the Greek public. G. Panoussopoulos is not a stranger to us, though. He is the director of "Oi Apenantoi" (1981), a real haunting movie, about a weird guy and his love for a woman living in an apartment across the street. But this is a different story. What we have here, is a story about growing old. The main issue in the film is the biological decadence, which leads to insanity. Realism and surrealism combine into a very interesting result. The director uses many elements from the Italian new-realism, whereas the music score is done by the great Manos Hatzidakis.

The plot is the following: Several old couples make their annual excursion to a campus for old people. The situation there is rather boring: Card-playing, swimming, long and pointless discussions etc. One day, the hero decides to kill his wife, for no particular reason. After that, anything's possible.

It's very hard to find a copy of this movie anywhere. If you're lucky enough to find one, do yourself a favor and watch it. It's a very good movie.
(click to enlarge)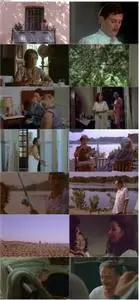 More in My Blog