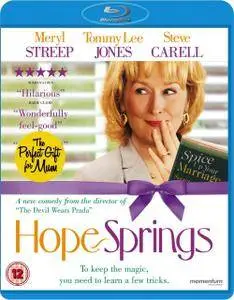 Hope Springs (2012)
BDRip 720p | MKV | 1280 x 720 | x264 @ 2560 Kbps | 1h 39mn | 2,23 Gb
Audio: English AC3 5.1 @ 448 Kbps + Director's Commentary track | Subs: English (embedded)
Genre: Comedy, Drama, Romance | Director: David Frankel
Kay and Arnold are a middle-aged couple whose marriage has declined until they are now sleeping in separate rooms and barely interact in any meaningful loving way. Finally, Kay has had enough and finds a book by Dr. Feld which inspires her to sign them up for the Doctor's intense week long marriage counseling session. Although Arnold sees nothing wrong with their 30 year long marriage, he reluctantly agrees to go on the expensive excursion. What follows is an insightful experience as Dr. Feld manages to help the couple understand how they have emotionally drifted apart and what they can do to reignite their passion. Even with the Doctor's advice, Kay and Arnold find that renewing their marriage's fire is a daunting challenge for them both.
It's always interesting to read people's reviews of movies and instead of getting a review, we get a paragraphs full of narcissism, relentless scrutiny, and disappointment. What reviewers have to understand is that yours is not the only perspective on what makes a good movie, in fact, good.

The problem is, genuine realism is lost on those expecting the standard Hollywood-esque, brushed-canvasses, flawless plot lines, and riveting dialogue. Life is rarely like that and when a movie comes along that depicts some real-life humanity, with all our human idiosyncrasies and vulnerabilities, it gets dissected because a few outspoken individuals are expecting reality as its portrayed in Reality TV and not reality as most of us know it, as it really is.

This movie captured the tenuous nature of intimate relationships and all the things we don't say to each other. It is uncomfortable for most of us to be that exposed and vulnerable with another human being, and that is what Hope Springs capitalized on better than many other films of this genre. The communication difficulties Jones and Streep exhibited were masterfully portrayed. The dialogue wasn't always fun and lively, but that's what added to the authenticity of the plot and the main developing theme. If you're looking for mindless entertainment, something easy to digest, there's plenty out there. If you're up for a healthy dose of reality and a powerful, vital message, then give Hope Springs a viewing. I don't think you'll be disappointed. Happy film hunting!
(Enlargeable)