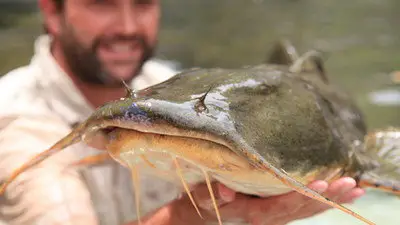 National Geographic - Monster Fish: India's River Devil (2011)
HDTV | AVI | English | 00:44:58 | 624x352 | XviD - 1089 Kbps | AAC - 128 Kbps | 350 MB
Genre: Documentary | USA
A mammoth catfish that has allegedly stalked, attacked and killed people can be found in the Indian Himalayas. Dr. Zeb Hogan investigates reports of the goonch. With the help of a local guide, Zeb sets out to examine the scenes and speak with eyewitnesses who recount the attacks: One recalls a young man who was fatally pulled under water while bathing; another describes a goonch dragging a 1,000-pound buffalo into the river.