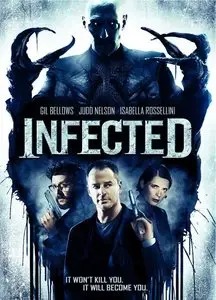 Infected (2008)
English | Sub : No | 89 min | 624×352 | XVID | MP3 - 128kbps | 700MB
Genre : Adventure | Sci-Fi | Thriller
Infected a frightening tale of alien invasion— where the aliens aren't just coming for us, they're coming out of us, began filming in Montreal today. The film stars Gil Bellows (The Shawshank Redemption, Ally McBeal) as Ben Mosher, an unlikely hero with a dead-end job and a broken heart. Maxim Roy plays Lisa, an ambitious reporter and Ben's estranged lover. But when Ben and Lisa find themselves in the middle of an alien conspiracy where humans are being poisoned and impregnated with alien larvae, the pair must put their past behind them and work together to save mankind.
Screenshot :