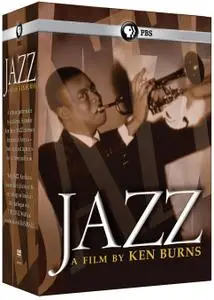 Jazz (2001)
DVD Video, 10 x DVD9 | NTSC 4:3 | 720x480 | ~ 1095 min | ~ 57.1 Gb
English: AC3, 2 ch, 192 Kbps | Subtitles: English
Genre: Documentary, History, Music, TV Mini-Series


Director:
Ken Burns
Stars:
Keith David, Louis Armstrong, Sidney Bechet
Film Distributor:
PBS
JAZZ celebrates America's greatest original art form. Ken Burns' 10-part documentary opens at the dawn of the 20th century, incorporating American culture and historical events that interact directly with the music. From the 1890s through the ferment of the Harlem Renaissance and the Jazz Age, to the Great Depression, New Deal, Second World War, and beyond, JAZZ paints an astounding portrait of a nation and its improvisational core of music.
Episode One- Gumbo:
43 Special Music Information Cards
Making Of JAZZ - A Special Featurette
Episode Two- The Gift:
54 Special Music Information Cards
Complete Performance - Louis Armstrong "I Cover The Waterfront" (1933, 3 min. 30 sec.)
Episode Three- Our Language:
57 Special Music Information Cards
Episode Four- The True Welcome:
52 Special Music Information Cards
Episode Five- Swing-Pure Pleasure:
52 Special Music Information Cards
Episode Six- Swing-The Velocity Of Celebration:
49 Special Music Information Cards
Episode Seven- Dedicated To Chaos:
51 Special Music Information Cards
Complete Performance - Duke Ellington "C-Jam Blues" (1942, 3 min.)
Episode Eight- Risk:
56 Special Music Information Cards
Episode Nine- The Adventure:
41 Special Music Information Cards
Complete Performance - Miles Davis "New Rhumba" (1959, 4 min. 25 sec.)
Episode Ten- A Masterpiece By Midnight:
71 Special Music Information Cards
All thanks to the original uploader



If you like this release please visit my blog
In it you will find releases of director Ken Burns