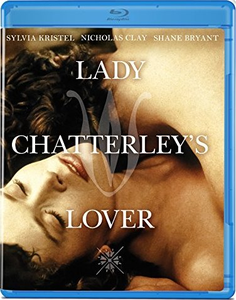 Lady Chatterley's Lover (1981)
1080p BDRip | mkv | x265 HEVC @ 1239 Kbps, 23.976 FPS | 1920 x 1040 (1.85 : 1) | 1 h 44 min | 1.16 GB
Audio: English AC-3 2.0 @ 320 Kbps, 16-bit | Subtitle: none
Genres: Drama, Romance | Country: UK, France
Director
: Just Jaeckin
Writers
: Marc Behm, Just Jaeckin, D.H. Lawrence, Christopher Wicking
Starring
:
Sylvia Kristel
, Shane Briant, Nicholas Clay, Ann Mitchell, Elizabeth Spriggs, Pascale Rivault
D.H. Lawrence had been dead around thirty years when what is arguably his most famous (infamous?) novel, Lady Chatterley's Lover, became a latter day cause célèbre when the first unexpurgated version of the novel raised a ruckus in "veddy, veddy" proper England, resulting in Penguin Books being sued under a then relatively new obscenity act. The novel's explicit sexuality was of course a bone of contention, but its language also upset the daintier perceptions of the British, what with Lawrence's frequent use of not just the so- called "f bomb" but also the more easily disparaged "c word". When the British jury returned a "not guilty" verdict (meaning Penguin had not published "obscene material"), it opened the floodgates in the publishing industry in England, with a slew of permissive works appearing in the wake of the decision. Perhaps surprisingly, then, the first major screen adaptation of the novel had actually been done five years prior to the obscenity trial, in 1955, though it's perhaps not so surprising that it was a French production. That version was initially banned in the United States, but was ultimately screened (again, due to court interference) just a short time before the novel was making headline news in the obscenity trial in England. Again somewhat surprisingly given the increasingly permissive tenor in various media, especially film, there was not another big screen stab at Lawrence's tale of Constance Chatterley and her burly gamekeeper Oliver Mellors until 1981, when this international co-production was released to tepid reviews and even more lackluster boxoffice. The film is notable for reuniting the star and director of one of France's more notorious soft core enterprises, Emmanuelle. That might have seemed to create an inherently salacious interest in an already notoriously hypersexualized story, but rather unexpectedly this Lady Chatterley's Lover is at least relatively restrained. Yes, there's a lot of nudity, and a handful of sometimes weirdly amusing sex scenes (some with dialogue in between the huffing and puffing), but in a completely weird way, director Just Jaeckin's take on the material presages some of the same ideas and general ambience that has made Downton Abbey: Seasons 1, 2, 3 & 4 such a sensation (though of course one would never expect the vaunted Crawley family to ever emit an "f bomb").
Please Note: Playback of this H.265/HEVC encoded video file in VLC media player may cause problem (like Green Screen). A fresh install of the player or a new version can solve this problem. I strongly suggest you to download and install "K-Lite Codec Pack (Full or Mega version; totally free with WMP Classic)" on your system first and then try to play the file in VLC. Or, you can just install PotPlayer, and no codecs will be needed. I use this player for playing all sorts of media… from MP3 audio files to 4K UHD video files.

Mac users please get help from the Internet and YouTube.
MS18pp