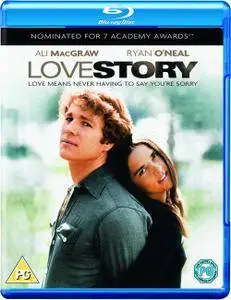 Love Story (1970)
BDRip 720p | MKV | 1280 x 720 | x264 @ 2560 Kbps | 1h 40mn | 2,42 Gb
Audio: English AC3 5.1/2.0 @ 448/224 Kbps + Director's Commentary | Subs: English
Genre: Drama, Romance | Director: Arthur Hiller
Harvard Law student Oliver Barrett IV and music student Jennifer Cavilleri share a chemistry they cannot deny - and a love they cannot ignore. Despite their opposite backgrounds, the young couple put their hearts on the line for each other. When they marry, Oliver's wealthy father threatens to disown him. Jenny tries to reconcile the Barrett men, but to no avail. Oliver and Jenny continue to build their life together. Relying only on each other, they believe love can fix anything. But fate has other plans. Soon, what began as a brutally honest friendship becomes the love story of their lives.
IMDB
- Won 1 Oscar + Another 9 wins
A box office phenomenon at the time (this was one of those movie that people reportedly waited in line for hours to see), LOVE STORY has continued to be ridiculed by cynics and adored by romantics for decades. The secret to the film's ultimate effectiveness is in it's simplicity. Director Arthur Hiller wisely films Eric Segal's screenplay (an adaptation of his own best-selling novel) in a concise and straightforward manner, allowing audiences to become enamored with the characters and involved with their plight. The film even manages to make subtle commentary on class struggles, personal identity, and even the changing attitudes of religion, all of which while never appearing preachy or obvious under Hiller's unpretentious direction.

Ali MacGraw brings an undeniable spunk to her characterization here which helps undercut the potential sentimentality of the picture, and lends the finale a greater emotional punch. The natural handsomeness and effortless charm of Ryan O'Neal is used to exceptional effect, and the supporting performances of Ray Milland and John Marley (as two very different types of fathers) are terrific. This is a film that never attempts to disguise it's own thematic manipulations, which may very be why it remains so effective. French composer Francis Lai's haunting original score further enhances the film, which is justifiably considered by many to be one of the all-time tearjerkers.
(Enlargeable)