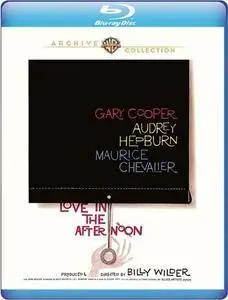 Love in the Afternoon (1957)
BDRip 720p | MKV | 1280x720 | x264 @ 7240 Kbps | 129 min | 7,94 Gb
Audio: English DTS 2.0 @ 1509 Kbps | Subs: English (+SDH) (embedded in MKV)
Genre: Comedy, Crime, Drama
In Paris, detective Claude Chavasse is hired to follow a wife suspected of infidelity with the notorious American libertine Frank Flannagan. When the husband learns that his suspicions are accurate, he tells Claude of his plan to kill Flannagan. Claude's daughter Ariane overhears the threat and warns Frank of the coming trouble. She then plays the part of a worldly socialite with a list of conquests as long as Flannagan's. The bemused ladies' man returns to America the next day and Ariane, completely in love, follows his romantic escapades in the news. She sees him again in Paris the following year, and resumes her worldly guise, telling tales of former lovers when they meet at his hotel in the afternoon. Frank, amazed by the mystery girl and surprised to find himself jealous of her past, hires Claude to uncover more information about her. When the detective realizes what has happened, he asks Frank not to break his daughter's heart.
The first thing I noticed about this lilting romance was the beautiful, shimmering, black and white photography. Set in Paris, with some scenes filmed there, Director Billy Wilder weaves a captivating, simple tale of a 20ish woman (Hepburn), who lives with her father (Maurice Chevalier), who schemes to snag a 50ish cad (Cooper). At first the age difference is very apparent, with Cooper seemingly mis-cast as a womanizer, but he grows on you, with a sweet, gentle, quiet, attractive performance. Hepburn is stunning and spunky in one of her best performances. The song "Fascination" is used to great effect. Filmed in 1957, the only way to show the title occurrence is to have a camera shot following Hepburn's dis-robed fur coat falling to the hotel room's floor, as she embraces Cooper. The ending is suspenseful, with cute narration epilogue by Chevalier. A wonderful film.
(click to enlarge)

More in My Blog