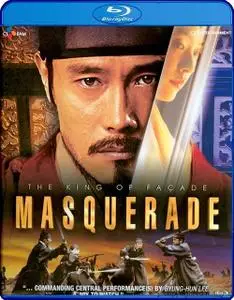 Masquerade (2012)
BDRip | MKV | 1024x460 | x264 @ 2197 Kbps | 131 min | 2,44 Gb
Audio: Korean (한국어) AC3 5.1 @ 448 Kbps | Subs: English, T/S Chinese (中文)
Genre: Drama
Director:
Chang-min Choo
Writers:
Jo-yun Hwang (screenplay), Chang-min Choo (screenplay adaptation)
Stars:
Byung-Hun Lee, Seung-ryong Ryu, Hyo-Joo Han
The 15th ruler of Korea's Joseon Dynasty, King Gwang-hae, orders his councilor, Heo Gyun, to find him a double to shield him from the constant threat of assassination. Heo Gyun finds Ha-sun, a bawdy comedian who looks remarkably like the king. When Gwang-hae is incapacitated, Heo Gyun has Ha-sun pretend to be the king until Gwang-hae recovers. But soon Ha-sun begins to see his "act" as an opportunity to make a difference in the lives of ordinary people.
'Masquerade' is kind of movie that is hardly to find weakness from it. It is so beautiful and entertaining from the beginning through the end. The first half of the movie is about how Ha-seon adapts in palace environment which is interesting to see and sometimes really funny, and the last 45 minutes of the movie is just so tense. This is an example movie that is handled by professional cast and crew members. Chang-min as director built a dazzling and powerful movie, the cinematography is beautiful captured and solid frame by frame, the make-up and costume design are also did their responsibility well. Cast member also had done an incredible part especially Byung-hun as King Gwang-hae and Ha-seon. His name has already known internationally as a tough fighter in 'G.I. Joe series' and will be in 'Red 2' too but you wouldn't find him acts like in this kind of movie, it's totally worth to see. Byung-hun acts really convincingly as two different character here, a serious charismatic king and a naughty lazy comedian. Without the right guy who plays exceptionally in the main role, this movie wouldn't be that great. Overall, 'Masquerade' is a serious making movie with great storyline and strong performances although the ending is not so extraordinary. No wonder 'Masquerade' is appreciated and so successful in South Korea which it well deserved.
(click to enlarge)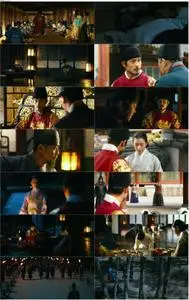 More in My Blog