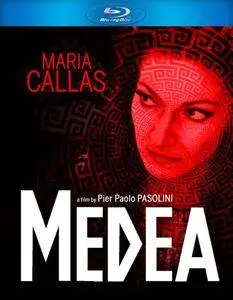 Medea (1969)
BDRip 720p | MKV | 1280 x 720 | x264 @ 2560 Kbps | 1h 51mn | 2,14 Gb
Audio: Italian AC3 2.0 @ 192 Kbps | Subtitles: English (embedded)
Genre: Art-house, Fantasy | Director: Pier Paolo Pasolini
To win the kingdom his uncle took from his father, Jason must steal the golden fleece from the land of barbarians, where Medea is royalty and a powerful sorceress, where human sacrifice helps crops to grow. Medea sees Jason and swoons, then enlists her brother's aid to take the fleece. She then murders her brother and becomes Jason's lover. Back in Greece, the king keeps the throne, the fleece has no power, and Medea lives an exile's life, respected but feared, abandoned by Jason. When she learns he's to marry the king's daughter, Medea tames her emotions and sends gifts via her sons; then, loss overwhelms her and she unleashes a fire storm on the king, the bride, and Jason.
Medea is an extraordinary film which some will find difficult. Telling the story of Jason and his quest for the Golden Fleece, this is not the stuff of Ray Harryhausen. Meeting the priestess of the Fleece, Medea, he falls in love with her and takes her home. Years later, after bearing him sons, she exacts a terrible revenge after he spurns her for a new love. Medea is also extraordinary in exhibiting Pasolini's demonstration of contrasts in plot development and framing. In the sequence in which we are introduced to Medea, we witness the mesmeric nature of a human sacrifice, which changes from the ecstatic to the horrific within the same sequence. This motif recurs throughout the film, and has prompted admiration from French philosopher Gilles Deleuze, who mentions Pasolini in his treatise on the movement-image. Filmed with a mixture of professional and non-professional actors, Medea is a challenging and refreshing change from the usual, as it builds up to a frightening climax in an unconventional way. Often shown in 'World Cinema' slots late at night, it's a film worth staying up for, or recording, for those seeking an alternative to Hollywood pap.
(Enlargeable)