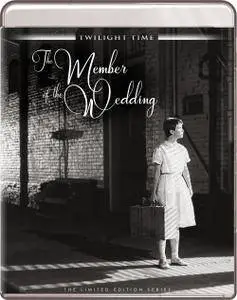 The Member of the Wedding (1952)
BDRip 720p | MKV | 1280 x 720 | x264 @ 2560 Kbps | 1h 29mn | 1,96 Gb
Audio: English AC3 2.0 @ 192 Kbps + 2 Commentary trackcs | Subs: English
Genre: Drama | Director: Fred Zinnemann
Bookish tomboy Frankie Addams (Julie Harris) doesn't get along with the rest of the girls in her tiny southern town. Depressed, socially isolated and perched on the verge of adolescence, Frankie takes refuge with the family maid, Berenice (Ethel Waters), and pals around with her young cousin, John Henry (Brandon de Wilde), while secretly fantasizing about going away with her brother, Jarvis (Arthur Franz), and his new bride, Janice (Nancy Gates), on their honeymoon to Alaska.
IMDB
- Nominated for 1 Oscar
Carson McCullers was one of the best writers the South has ever produced. The clarity and sensitivity of her prose is captured beautifully in this all-but-a-play film.

Ethel Waters, Brandon deWilde and Julie Harris repeat their triumphal Broadway performances.

As a Southern native, it is my informed opinion that Ms McCullers captures the complex and often misunderstood relationships of poor white folks and their even poorer black neighbors in the small town South before the advent of the American civil rights movement. United in poverty, religion and ignorance; they are divided by the institutions of racism and class.

The loneliness of childhood, the love that Bernice has for her young white charges together are explore in the backdrop of the rural South that Faulkner described as half myth and half mysticism.

Ethel Waters reveals her impressive dramatic skills near the end of a long career , Julie Harris displays a mastery of her craft at the beginning of her distinguished career, and Brandon deWilde steals every scene in which he appears.

Highly recommended.
(Enlargeable)

Commentaries:
1) Audio commentary with Suzanne Vega, Derek Botelho and David Del Valle
2) Audio commentary with Carson McCullers Biographer Virginia Spencer Carr