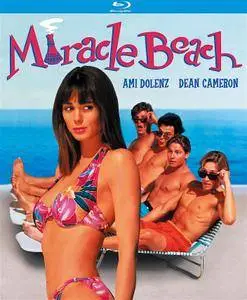 Miracle Beach (1992)
BDRip 720p | MKV | 1280 x 720 | x264 @ 2560 Kbps | 1h 27mn | 1,67 Gb
Audio: English AC3 2.0 @ 160 Kbps | Subtitles: None
Genre: Comedy, Fantasy, Romance | Director: Skott Snider
After losing his girlfriend, job and house, Scotty (Dean Cameron) gets very drunk. Homeless man Gus (Pat Morita) gives him a blanket to sleep under, along with a mysterious lamp that turns out to contain Jeannie (Ami Dolenz), a genie sent to help Scotty. With Jeannie's magical assistance, Scotty is soon the wealthy owner of a beach resort. Hoping to win over supermodel Dana (Felicity Waterman), Scotty asks Jeannie to make him the perfect man – but he's soon falling for Jeannie instead.
Over 54% of IMDB viewers rated this movie at least 7 out of 10, and 25% rated it 10 out of 10. So a lot of people do like this movie! If you do not expect a reality-based movie, with an intellectual script and complex plot, and if you just view this film with a light-hearted shallowness in order to have some fun, then all is fine. For the guys there is plenty of eye candy, especially in the R-rated version, but this is not simply a cheap C-grade sex movie because there is actually a nice message about love and romance and if you are open to this then you will feel good at the end of the film.

Ami Bluebell Dolenz is amazingly cute and beautiful, perfect for the role of a genie. Her middle name fits perfectly and is probably every man's dream woman. There are some stupid lines and bad acting (but not from the main characters) and overall it is a good flick, especially for the guys and for women who do not feel threatened by seeing so many gorgeous bodies.

The addition of Pat Morita (from 'Karate Kid' fame) and Vincent Schiavelli (the subway ghost in 'Ghost' and so many other films) puts this film up a few more notches. Unfortunately the video cover for this film portrays it as a cheap sex film, which you may find it to be if sexy bodies plus light comedy are an unpleasant combination for you. For the rest of us, we can have a few laughs with a few romantic dreams.
(Enlargeable)