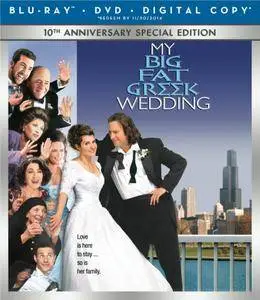 My Big Fat Greek Wedding (2002)
BRRip 720p | MKV | 1280 x 720 | x264 @ 2250 Kbps | 1h 35mn | 1,79 Gb
Audio: English AC3 5.1 @ 448 Kbps | Subtitles: English (embedded)
Genre: Comedy, Romance | Director: Joel Zwick
Toula Portokalos is 30, Greek, and works in her family's restaurant, Dancing Zorba's, in Chicago. All her father Gus wants is for her to get married to a nice Greek boy. But Toula is looking for more in life. Her mother convinces Gus to let her take some computer classes at college (making him think it's his idea). With those classes under her belt, she then takes over her aunt's travel agency (again making her father think it's his idea). She meets Ian Miller, a high school English teacher, WASP, and dreamboat she had made a fool of herself over at the restaurant; they date secretly for a while before her family finds out. Her father is livid over her dating a non-Greek. He has to learn to accept Ian; Ian has to learn to accept Toula's huge family, and Toula has to learn to accept herself.
IMDB
- 20 wins + Nominated for 1 Oscar
This is a such a nice and entertaining movie. As in David & Layla directed by Jalal Jonroy, My big fat Greek Wedding too celebrates the love and cultural differences. Love, humanism, comedy, romance all are in that great film. My Big Fat Greek Weddeing brings people from different background closer and shows how important to accept the 'other' as other in order to be just happy! Being a migrant poses different problems and the individuals some times have to defy their original traditions and cultures to be able to love or be happy. In particular Greeks are very keen on and proud of their traditions and cultures (rightfully). I like the films which provide some insight and understanding of different cultures, or of individuals inner world. In this term My Big Fat Greeek Wedding does the job. That is why it is a very captivating film along with being funny enough to make you laugh even after you left the movie theater.
(Enlargeable)

My Big Fat Greek Wedding 2 (2016)
My Blog