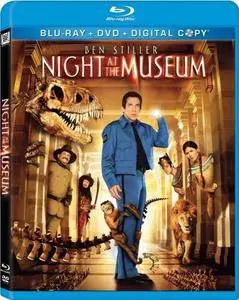 Night at the Museum (2006)
BDRip 720p | MKV | 1280 x 720 | x264 @ 2048 Kbps | 1h 48mn | 2,06 Gb
Audio: English AC3 5.1 @ 448 Kbps + Director's Commentary track | Subs: English
Genre: Adventure, Comedy | Director: Shawn Levy
When good-hearted dreamer Larry Daley is hired as night watchman at the Museum of Natural History, he soon discovers that an ancient curse brings all the exhibits to life after the sun sets.
Excellent fun flick… and best movie Dinosaur in a long time ;-)

I promised my 8th grade nephew I'd take him to a movie this Christmas break - without his younger brothers and sisters. He originally wanted to see that dragon movie, but he found out it sucked, so I suggested this one.

With teens, there's the fine balance between too "kid" oriented and too dark, but he was laughing along the rest of the theater, and lost himself in the fun with the rest of us.

He wants to see it again, *I* want to see it again, and I recommend it for anyone with a sense of fun. It's also the first Ben Stiller movie in a while I can say that about. I hope you all reward the studio for putting out a true "family movie" for the holidays, so we'll see more in the future.

It was good to see Dick Van Dyke, Andy Rooney and Bill Cobbs in light, comic roles, and Robin Williams in a solid supporting role. They all lend the movie more "credibility."
(Enlargeable)