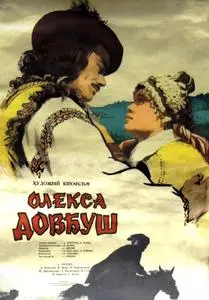 Oleksa Dovbush (1959)
DVDRip | MKV | 682x576 | x264 @ 2184 Kbps | 75 min | 1,39 Gb
Audio: Українська MP3 @ 320 Kbps and Русский MP3 @ 128 Kbps | Subs: English
Genre: Adventure, Drama
Director
: Viktor Ivanov
Writer
: Viktor Ivanov
Stars
: Afanasi Kochetkov, Natalya Naum, Oleg Borisov
The story of "Hutsul Robin Hood" Oleksa Dovbush, an 18th century Carpathian outlaw who's a popular figure of Ukrainian legend.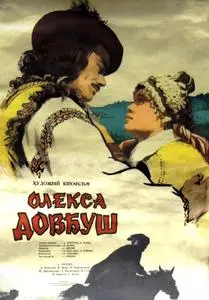 Oleksa Dovbush (1959)
DVDRip | MKV | 682x5760 | x264 @ 2184 Kbps | 75 min | 1,39 Gb
Audio: Українська MP3 @ 320 Kbps and Русский MP3 @ 128 Kbps | Subs: English
Genre: Adventure, Drama
Director
: Viktor Ivanov
Writer
: Viktor Ivanov
Stars
: Afanasi Kochetkov, Natalya Naum, Oleg Borisov
The story of "Hutsul Robin Hood" Oleksa Dovbush, an 18th century Carpathian outlaw who's a popular figure of Ukrainian legend.
It is rarely that movie could make such a strong effect - in case of "Oleksa Dovbush" it was a revival of all region of Western Ukraine - at least in culture. Sometimes the strength of the movies that caused such dramatic changes are just in ideology, but "Oleksa Dovbush" will surprise you here again - it's a strong historical action-adventure movie with astounding directing, scening, and camera work.

The movie setting is 18 century noth-eastern Carpathian mountains, where live one of the most archaic ukrainian tribes - hutsuls, which at these times are under despotic polish rule. The story tells us about emergence of small but effective resistance group led by a man named Oleksa Dovbush, which acted in a Robin Hood-manner against the opression of polish nobles. Almost at the beginning we got a magnificent 'gathering the troop' scene with introduction of all different characters in Dovbush's squad and astonishing mountain view at the background. Also this scene introduce us to the romantic plotline - Oleksa's love Marichka, who he must reject to live a dangerous but chivalrous life of opryshko - mountain robber - scourge of a wealth-hungry landlords and protector of common folk.

Being the leader of the band, Oleksa uses his wits, courage and cunning to trick the larger forces of polish nobility time after time. As the story goes we see how successes of a little group give rise to a country-wide rebellion, to pacify which polish nobles must send considerable army. But even that is not enough to catch elusive opryshko, so nobles descend to the most despicable ways just to get rid of him…

As an action movie this film have great scenes of fights and chases, although there are plenty dramatic tension scenes too. Almost every one of them is filled with depiction of ethnic customs, beautiful landscapes and dramatic music. Overall tone may sometimes be too much in gloryfying rich/poor antagonism - but hey, its soviet film. Every movie in USSR must had class struggle in their narrative.

As for minuses - there is strange cut in the middle. It seems this is the result of censoring, so it's most likely not the fault of filmmakers. After all, the movie was made in 1959 - Khrushchev's rule, when censorship in cinema was a little less menacing than in Stalin times, but still pretty strict. And just BTW - this was a second attempt to make the film - first one, based on the same script and directed in 1941 by Ivan Kavaleridze, failed to continue shooting process due to the WWII.
(click to enlarge)

More in My Blog