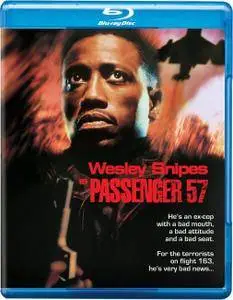 Passenger 57 (1992)
BDRip 720p | MKV | 1280 x 720 | x264 @ 2560 Kbps | 1h 23mn | 1,76 Gb
Audio: English AC3 5.1 @ 448 Kbps | Subtitles: English (embedded)
Genre: Action, Crime, Thriller | Director: Kevin Hooks
Air travel is the safest, the FAA says. But the FAA never figured the risk with Charles Rane on board. "The Rane of Terror" has masterminded four terrorist attacks. Soon there will be a fifth – and that's bad news for the passengers on Flight 163. But there's good news too: the man in seat 57! Wesley Snipes plays John Cutter, an undercover security operative who enters the lavatory and exits to find Rane (Bruce Payne) and his gang have taken over. Cutter's next move is clear. Do. Or be done to.
Passenger 57 is an enjoyable and rather underrated action film. Although there is not too much of a storyline, the slick action scenes combined with some very good performances from Wesley Snipes and Bruce Payne kept me entertained from start to finish.

While Passenger 57 offers nothing really new to the action genre, it does offer plenty of fast paced chaos and explosions and combined with some entertaining hand-to-hand combat skills by Snipes, it is certainly better than a lot of other standard action fares out there.

Snipes gives a very good performance as the lead and Bruce Payne is brilliant as the mentally unstable villain. The other cast are somewhat overshadowed by Snipes and Payne, but do an adequate enough job.

Overall I was very pleased by Passenger 57, so much so that it proudly belongs in my DVD collection. A very good choice for action fans and a must for Snipes fans. 8/10.

And don't forget…."Always bet on black!"
(Enlargeable)