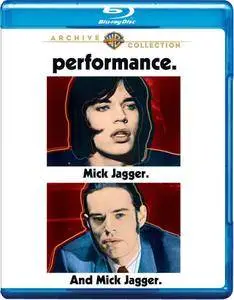 Performance (1970)
BDRip 720p | MKV | 1280 x 720 | x264 @ 2560 Kbps | 1h 45mn | 2,03 Gb
Audio: English AC3 2.0 @ 192 Kbps | Subtitles: English (embedded)
Genre: Crime, Drama | Directors: Donald Cammell, Nicolas Roeg
Chas, a violent and psychotic East London gangster needs a place to lie low after a hit that should never have been carried out. He finds the perfect cover in the form of guest house run by the mysterious Mr. Turner, a one-time rock superstar, who is looking for the right spark to rekindle his faded talent.
I missed this film when it came out over thirty years ago, and have looked out for it ever since. At last, after a rare showing on BBC's arts channel, it has proved to be well worth the long wait.

It is a complex film, starting and finishing as a gripping and violent gangster movie, with the more philosophical and erotic section with Jagger and Pallenberg slotted between the gangster elements. James Fox as gangster on the run is a revelation. Why didn't he get parts like this again? He is far more convincing than his contemporary Michael Caine in this kind of role, with a scary viciousness combined with his 'Jack the Lad' charm.

Although Mick Jagger and Anita Pallenberg don't seem to be playing anything more than themselves, they are perfect foils for Fox. As they embroil Fox in their weird games, the writers/directors Nicholas Roeg and Donald Cammell create brilliantly the mushroom-based trip that they take him on and through. The film also evokes a fascinating and nostalgic picture of late '60s London and is a reminder that the "swinging sixties" had their grimy and violent side. Overall, a great film that deserves far wider recognition.
(Enlargeable)