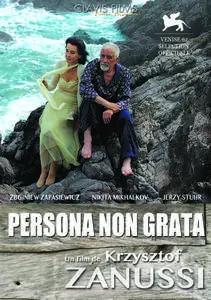 Persona non grata (2005)
DVDRip | MKV | 712x570 | x264 @ 2248 Kbps | 112 min | 2,12 Gb
Audio: Polski AC3 5.1 @ 448 Kbps | Subs: English, Español, Français, Italiano, Polski
Genre: Drama
Director:
Krzysztof Zanussi
Writer:
Krzysztof Zanussi
Stars:
Zbigniew Zapasiewicz, Nikita Mikhalkov, Jerzy Stuhr
The Polish ambassador to Uruguay has to deal with the death of his wife and the breakdown of important professional and personal relationships, as he becomes both the object and instigator of suspicion.
An exploration of the intersection between friendship, work life, and the legacies of the past, including the ties between a changing Poland and Russia.
Won both the Jury Prize and Best Supporting Actor for Nikita Mikhalkov at the Gdynia Film Festival in 2005. Also awarded the Golden Reel as the best Polish film of 2005 by the association of Polish film critics.
It is a story of love, suspicion, and principles–that go beyond mere individuals. It is a story of reconciliation. It is a film that a filmmaker can make in the evening of his career. It reminds you works like Kurosawa's "Dersu Uzala" or Ermanno Olmi's "Tree of Wooden Clogs." It is a work of maturity. Savor it like fine cognac!

Just as it is major work of Zanussi, I believe this to be a milestone for the music composer Kilar. Poland should be proud of Zanussi and Kilar.

The film is a veritable feast for an intelligent viewer. Great performances from three great Polish actors–Zbigniew Zapasiewicz (Zanussi's favorite), Jerzy Stuhr (Kieslowski's favorite), and Daniel Olbryschsky (Wajda's favorite) adorn the film but the most striking is the acting performance of Russian actor-director Nikita Mikhalkov, who can do a great turn as a restrained comic (for example his performance in his half-brother Mikhalkov Konchalovsky's "Siberiade").

But in this film a dog plays a major actor's role within a web of friendship and distrust. So does a torn photograph–Zanussi does not seem to believe that photographs can lie.

"Persona non grata" could easily have been named "Suspicion". The film is an ode to friendships–friends who remain loyal, friends who are not recognized as friends at best of times but are recognized as friends when tragedy strikes, and friends who dislike being insulted even by mistake. The film was screened during the on-going 11th International Film Festival of Kerala, India.

What this film proves is that Polish cinema is alive and well! It also proves Zanussi is back at his best form.
(click to enlarge)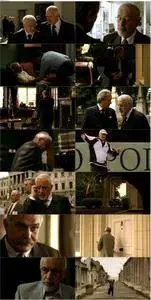 More in My Blog