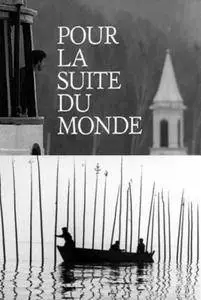 For the Ones to Come (1963)
WEB-Dl 720p | MKV | 960x720 | x264 @ 2840 Kbps | 105 min | 2,20 Gb
Audio: Français AAC 2.0 @ 138 Kbps | Subs (embedded): English, Français
Genre: Documentary
Directors
: Michel Brault, Pierre Perrault
Writers
: Michel Brault, Pierre Perrault
Stars
: Léopold Tremblay, Alexis Tremblay, Abel Harvey
At the instigation of the filmmakers, the young men of the Ile-aux-Coudres in the middle of the St-Lawrence River try as a memorial to their ancestors to revive the fishing of the belugas interrupted in 1924.
––––––––––––––––––––––––––––––––––––––––
Documentaire poétique et ethnographique sur la vie des habitants de l'Isle-aux-Coudres rendue d'abord par une langue, verte et dure, toujours éloquente, puis par la légendaire pêche au marsouin, travail en mer gouverné par la lune et les marées. Un véritable chef-d'oeuvre du cinéma direct.
This is no ordinary documentary. It's history and ethnology. Brault & Perrault shot that at a moment when a traditional way of life was still part of the every day of the fishermen of a small island of the St-Laurent river, in Québec. The way the old people talk are very XIXe Century. Old people takes their traditions to the youngs. Little children watch and learn, like in a society where oral transmission was the only way to learn. This is a very unique piece of work.
(click to enlarge)
More in My Blog