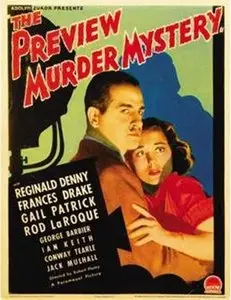 The Preview Murder Mystery (1936)
DVDRip | AVI | 720 x 480 | XviD @ 1427 Kbps | 60 min | 681 Mb
Audio: English MP3 @ 128 Kbps | Subtitles: None
Genre: Action, Mystery | Director: Robert Florey
It's a black night in Hollywood when matinee idol Neil DuBeck (Rod LaRoque) is murdered at the preview of his latest film. Director E. Gordon Smith (Ian Keith), who has long harbored a deep hatred for DuBeck, is the main suspect – until he too is killed, along with a movie-studio watchman (Spencer Charters). Closing down the studio and refusing to let anyone leave, police lieutenant McKane (Thomas Jackson) sifts through the clues, but it's up to actors Johnny Morgan (Reginald Denny) and Peggy Madison (Frances Drake) to solve the mystery, applying a few tricks they've learned at the movies.
Director Robert Florey enlivens Preview Murder Mystery with scores of delightful inside jokes, ranging from an elaborate takeoff of Cabinet of Dr. Caligari to a "television camera" which looks like a reconverted movie projector. Several Paramount contractees appear briefly in guest roles, while a host of silent screen favorites (Jack Mulhall, Bryant Washburn, Chester Conklin, Wilfrid Lucas et. al.) show up in nostalgic bit parts.
(Enlargeable)