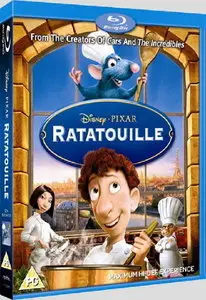 Ratatouille (2007)
BRRip 480p - TinyBearDs | MKV | 848 x 356 | x264 600kbps 23.976fps | AAC 64kbps 2CH
Language: English | Subtitle: English Included | 110min | 526MB
Genre: Animation | Comedy | Family | Fantasy | Won Oscar. Another 43 wins & 21 nominations
IMDb Rating: 8.1/10 (160,051 votes)
Director:
Brad Bird, Jan Pinkava
A rat named Remy dreams of becoming a great French chef despite his family's wishes and the obvious problem of being a rat in a decidedly rodent-phobic profession. When fate places Remy in the sewers of Paris, he finds himself ideally situated beneath a restaurant made famous by his culinary hero, Auguste Gusteau. Despite the apparent dangers of being an unlikely - and certainly unwanted - visitor in the kitchen of a fine French restaurant, Remy's passion for cooking soon sets into motion a hilarious and exciting rat race that turns the culinary world of Paris upside down.
An IMDb Review: Incredible
Remember how everyone was talking about Toy Story when it first came out? The incredible visuals, unique style, vividly imagined world? The next time people were talking that way with such enthusiasm about a computer animated movie was Finding Nemo. I'm excited to say that Ratatouille will be the next one to redefine the visual creativity and technical detail of computer animated movies. Honest to goodness, I was awestruck by the animation, and that never happens to me. It is a visual masterpiece of a movie if ever the term applies.

The next thing to talk about is the "genre" of the movie. As Pixar enthusiasts will tell you, Brad Bird, the director of Ratatouille, also directed The Incredibles, which has the most inspired and creative action sequences from any of the Pixar movies. Ratatouille, while not so straightforward with its action, has almost as much as The Incredibles did, in unique ways. Most memorable is the shotgun scene near the beginning. (You'll know what I'm talking about when you see it). Other than that, this is the expected comedy-with-heart movie from Pixar that so many have grown to love.

The voice acting? Spot on. Every voice is distinctive, and it never feels like a celebrity's voice tacked on to a character (Shrek, I'm looking at you), it feels like the characters themselves speaking. You can't ask for more from voice acting.

And finally, the script and the story. The entire irony of the story – a street rat with a passion for fine food – is beautiful, and a tight, smart, wonderful script flows from this. The pacing of the story is odd and choppy at places, but this is a very forgivable grievance. The only other minor fault is that a few of the dramatic one-liners feel a bit forced. Other than that, this is the most layered, complex, and satisfying script from Pixar since The Incredibles.

Overall, I recommend that everyone see this movie when it hits theaters (I was lucky enough to see a pre-release screening). Though not perfect, it is an animated masterpiece in true Pixar form with breathtaking animation and visual design.
Screenshots: