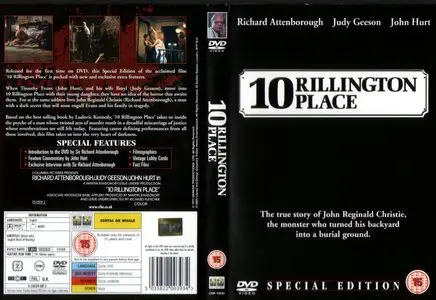 10 Rillington Place (1971) [Special Edition]
DVD9 | ISO+MDS | PAL 16:9 | Cover + DVD Scan | 01:46:22 | 7,24 Gb
Audio: English AC3 2.0 @ 192 Kbps + Commentary track | Subs: English SDH
Genre: Crime, Drama, Thriller
Director:
Richard Fleischer
Writers:
Clive Exton (screenplay), Ludovic Kennedy (book)
Stars:
Richard Attenborough, Judy Geeson, John Hurt
10 Rillington Place is the true story of British mass murderer John Reginald Christie, played with chilling "normality" by Richard Attenborough. Throughout the late '40s, Christie lures middle-aged women to his London flat promising to cure their ailments with nitrous oxide, then kills them, assaults their dead bodies, and buries them. One of his victims is Beryl Evans (Judy Geeson), who misguidedly comes to Christie seeking an abortion – and in the process, not only loses her own life, but sets in motion a horrid sequence of events that threatens to endanger her husband as well.
Set in post-war London, this tells the true story of John Christie (Attenborough) who, having taken Timothy (Hurt) and Beryl (Geeson) Evans in as lodgers, proceeded to murder Beryl (covering it up as a botched abortion) and the couple's young daughter, only for Timothy to be executed for the crimes. Later developments would find Christie responsible for the killings, and horrific findings at his house in Rillington Place would confirm Christie's place as one of Britain's most evil murderers.




It's never overly violent, conventionally frightening or aggressive in tone, and yet 10 Rillington Place succeeds in being genuinely disturbing and utterly compelling. The performances are top-notch and the film is superbly paced. It's also refreshing to see a film like this that doesn't contain any unnecessary elaboration or padding.




Attenborough is nothing short of phenomenal in the main role, managing to appear both threatening and harmless at the same time. This was of course the reason why Christie was such a successful killer, because his innocent facade hid his true character so well. He's softly spoken, retiring and utterly convincing as he manages to sell Timothy and Beryl the "abortion" which would see him take her life.




Both Geeson and Hurt are also very fine - Hurt in particular brings an almost childlike gullibility to the role, which of course was crucial in Christie being able to manipulate him, and lead to Evans being executed for crimes he didn't commit. There's also a nice turn from Pat Heywood as Christie's own wife, who also became a victim of her husband.




What is remarkable about the film though, is the way it manages to chill and create enormous discomfort with such ease. By taking for granted the fact that the audience knows what is going to happen, it presents quite horrific scenes in a very matter-of-fact way, which means the audience are engrossed in what is going on, but know they are powerless to do anything about it. This is a very difficult balance to get right, but this film succeeds superbly, and creates an atmosphere where the viewer feels like they're physically watching the crimes behind a piece of unbreakable glass.




If the film has a weakness, it's that it comes across as a little anti-climatic. This is largely due to the fact that the conclusion isn't exactly a surprise, so towards the end it does become a little laboured. In terms of direction, Fleischer isn't exactly extravagant, but with a film like this which relies on the realism of the circumstances to create tension, that is the right choice to make.




What is genuinely clever about 10 Rillington Place is that it never seems to get out of first gear, and yet it keeps the suspense at the same level as many adrenaline-charged thrillers. The performances suit the style and the mood of the film perfectly, and it also tells the story well thanks to a solid screenplay by Clive Exton. It could be said that the relaxed style of the film, which belies a ruthless centre, in many ways matches the charming and wicked efficiency of Christie himself. Whether or not that's deliberate it's difficult to say, but it certainly works.


David Mercier, Film Judge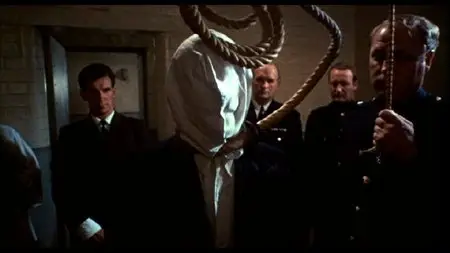 Special Features:
- Audio commentary with actor John Hurt (with optional subtitles)
- Introduction by actor Sir Richard Attenborough (1:29)
- Exclusive Interview with Sir Richard Attenborough (22:29)
- Fact files: Chronology & Ground Plan of 10 Rillington Place
- 4 Cast Filmographies
- Vintage Lobby Cards
- Bonus trailers
All Credits goes to Original uploader.